'Kashmir struggle can't be crushed by a presidential decree'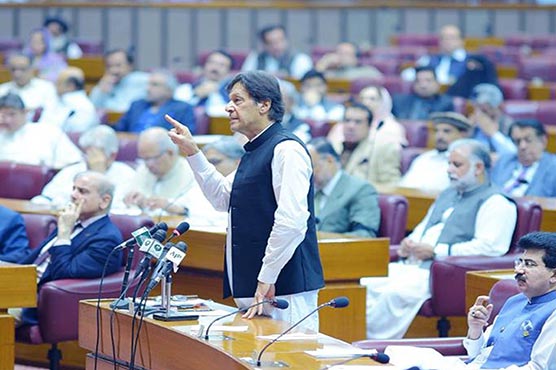 The prime minister said he had realised that India had no intention of talks with Pakistan.
ISLAMABAD (Dunya News) – Prime Minister Imran Khan on Tuesday said that India's decision to end special status of Occupied Kashmir while scrapping articles 35A and 370 of the Constitution, will have repercussions globally.
Addressing the joint session of the parliament on Tuesday, he said that we need to send a strong message through this session that the whole nation is united, adding that New Delhi's decision can have repercussions globally.
The prime minister said that he had realised that India had no intention of talks with Pakistan during the SCO Summit in Bishkek.
Imran Khan went on to say that after Pulwama incident, we tried to make them understand that Pakistan had no role in this. But there were elections and they created war hysteria in the country to create an anti-Pakistani sentiment and win the elections.
The prime minister stressed that the Kashmir struggle would intensify after India s decision to scrape Article 370, adding that the BJP do not consider Kashmiris as their equals. "They will try to crush them which will lead to a reaction which can be a Pulwama like incident," he said.
Imran Khan further said that the entire international community should take notice of India's violation of international laws. "We will not be responsible if the world didn't do anything," he said.
He warned of a conventional war between Pakistan and India in light of another Pulwama like situation.
"I want to make it clear that we will fight this issue on every forum, (including) at the UN security council," said Khan, who also promised to also raise the issue with heads of state and take the matter to the International Criminal Court.
The prime minister warned of a war between Pakistan and India saying a war could be waged between the two countries if the situation in Kashmir, disputed between the two countries, continues to deteriorate.
Khan demanded action from the global community as he accused Modi of blatantly violating international law in pursuit of an anti-Muslim agenda in India. "If the world does not act today... (if) the developed world does not uphold its own laws, then things will go to a place that we will not be responsible for," Khan added.
On Monday, the Indian government had ended special status of the valley while scrapping articles 35A and 370 of the Constitution. In a malicious attempt to turn Muslim majority into minority in occupied Kashmir, the Indian president has signed a four-point amendment decree in this regard.
The announcement was made by Indian Home Minister Amit Shah during his address in Rajya Sabha, upper house of Indian parliament. Shah said, "Kashmir will no longer be a state. It will be divided into two union territories – Kashmir, which will have a legislature, and Ladakh, which will be without a legislature."
He also told that the valley would be re-organized geographically."
The revocation of the articles has allowed other non-Muslim Indian citizens to buy land in the valley while a separate legislative assembly will be established there for its own laws.
---
Lockdown in occupied Kashmir as thousands more troops sent
---
On the other hand, authorities in occupied Kashmir placed large parts of the region under lockdown early Monday while India sent in tens of thousands of additional troops and traded accusations of clashes with Pakistan at their de facto border.
Communications were cut, with private mobile networks, internet services and telephone landlines cut.
The state government ordered for Srinagar, "As per the order, there shall be no movement of public and all educational institutions shall also remain closed. There will be a complete bar on holding any kind of public meetings or rallies during the period of operation of this order."
Universities, schools and colleges in Kashmir were ordered to be shut, and one district in that region was placed under lockdown.
---
What is Article 370?

---
Article 370 was the basis of Jammu and Kashmir s accession to the Indian union at a time when erstwhile princely states had the choice to join either India or Pakistan after their independence from the British rule in 1947.
The article, which came into effect in 1949, exempts Jammu and Kashmir state from the Indian constitution.
It allows the Indian-administered region jurisdiction to make its own laws in all matters except finance, defence, foreign affairs and communications.
It established a separate constitution and a separate flag and denied property rights in the region to the outsiders.
That means the residents of the state live under different laws from the rest of the country in matters such as property ownership and citizenship.
---
What is Article 35A?

---
Article 35A was introduced through a presidential order in 1954 to continue the old provisions of the territory regulations under Article 370 of the Indian constitution.
The article permits the local legislature in Indian-administered Kashmir to define permanent residents of the region.
It forbids outsiders from permanently settling, buying land, holding local government jobs or winning education scholarships in the region.
The article, referred to as the Permanent Residents Law, also bars female residents of Jammu and Kashmir from property rights in the event that they marry a person from outside the state. The provision also extends to such women s children.
While Article 35A has remained unchanged, some aspects of Article 370 have been diluted over the decades. Critics of Article 35A say the provision did not have any parliamentary sanction, and that it discriminates against women.