Last Updated On 07 June,2019 10:49 pm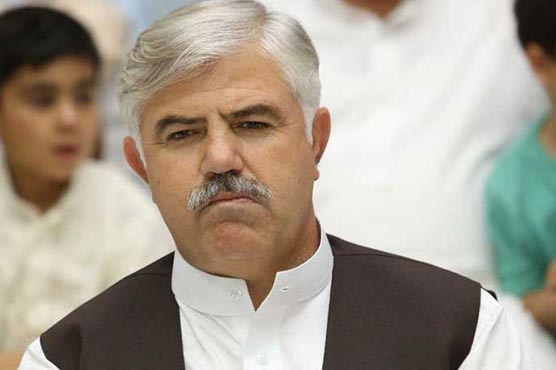 He dispelled the impression of difference at any level between federal and provincial governments
PESHAWAR (APP) – KP Chief Minister Mahmood Khan has said that the upcoming provincial budget will reflect the aspirations of the people, whose focus will be the socio-economic uplift of the poor.
He expressed these views while talking to the people in his residence at Matta, district Swat. He remained at his residence and met and exchanged Eid greetings with people. He also collected applications from some visitors and in most of cases issued directives to the concerned authorities.
The chief minister said that with the cooperation of Pakistan Army, the people of Swat had won war against terrorism. In this regard, he paid tributes to the sacrifices of both Pakistan Army and local people.
He said that Swat is entering into a new era of progress and development, saying Allah Almighty has blessed the region with natural beauty and the potential of tourism that are being utilized for the welfare of the people.
The chief minister said that for the facilitation of tourists, Swat Motorway has been opened for vehicular traffic on experimental basis that is an Eid gift for the residents of Malakand Division. In next phase, he said the Motorway would be extended from Chakdara to Bagh Dheri.
He said that this time, he had reached Swat via traveling on the Swat Motorway and reviewed the project. He said that the construction and beautification of motorway will be completed by the end of the current season and after its completion in two months, the Prime Minister Imran Khan himself will formally inaugurate the project.
He dispelled the impression of difference at any level between federal and provincial governments, saying the opposition is spreading baseless propaganda for their own satisfaction.
He further said that the PTI government has no threat from the opposition's movement against the government and the opponents to check the level of their popularity. He said that they welcome the opposition. However, he said the people will not join them as the past of those corrupt elements is fully known to them.
The chief minister said that the past rulers have played havoc with the national economy and put the national assets including highways and airports mortgaged to generate resources for their loot and plunder.
He said that due to crushing defeat in last general elections, opposition is still in shock. However, the early acceptance of facts is written on the wall for them.