Last Updated On 16 May,2019 11:10 pm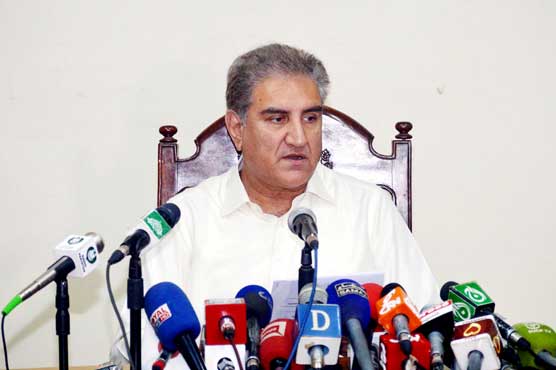 Only dialogues can resolve issues with India
MULTAN (Dunya News) – Foreign Minister Shah Mahmood Qureshi on Thursday said that the opposition should stage protest if it would benefit the country.
Talking to media in Multan on Thursday, he said the opposition said in the past criticised the PTI's protest and alleged that it would derail democracy and also affected the country's economy, adding that now the opposition should stage protest after Eid if it would benefit the country.
To a question, Qureshi said that the government had formed an experienced team of economic experts which would surely restore trust of investors and bring about an overall improvement in the national economy, adding that restoration of investors trust was necessary to give a much needed boost to economy and the team formed by the government had a capacity to restore investors' confidence.
He said: "Country's economic condition was a challenge for the government and the PTI accepted it with a commitment to bring about an improvement in it."
The minister said that Shabar Zaidi was a tax expert and never remained a part of any government in the past. He added that Prime Minister Imran Khan had asked him (Shabbar Zaidi) for his services to increase tax collection and revenue generation.
"PTI is moving forward according to its manifesto," he said.
The foreign minister went on to say that the law and order situation in Balochistan has improved due to the steps taken by the security forces, however, some powers wanted to destabilise Pakistan.
Regarding Pakistan-India relations, the minister said that the world won't support India's irresponsible steps. "Only dialogues can resolve issues with India," he added.
To a question, Qureshi said that fluctuation in dollar prices was being monitored by the State Bank of Pakistan and there was no interference of the finance ministry in it. He said that a trade war between America and China was not only affecting the country's market but it was also influencing markets of other countries. Qureshi said that establishment of South Punjab as a separate province was a part of the PTI's manifesto.
To a question about conflict between America and Iran, FM Qureshi said that Pakistan was in support of sustainable peace in the region, adding that Pakistan was also expecting dialogues with the new government of India to resolve all issues.
He said National Accountability Bureau (NAB) was an independent institution and it was working under the law. He questioned that why the parties, which were now criticizing the NAB, did not change law when they were in power.
He said that the government announced Local Government Act 2019 after a procedure, adding that local body elections would be held in three steps, including Punchayat councils, tehsil councils and urban councils.
Answering a question, FM Qureshi said that situation had improved in Balochistan, however, some elements were attempting to harm peace but these elements would be defeated.