Last Updated On 05 May,2019 08:10 pm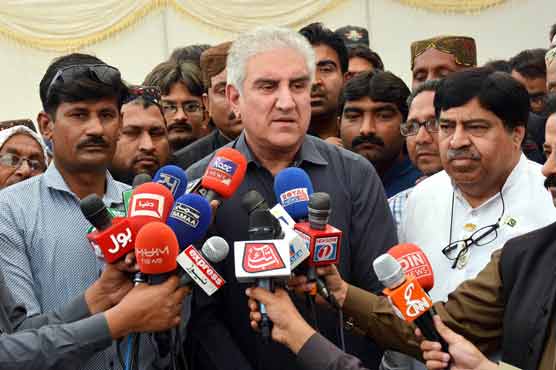 He said PPP also objected to Rana Tanveer's nomination as chairman of the Public Accounts Committee.
ISLAMABAD (Dunya News) – Foreign Minister Shah Mahmood Qureshi on Sunday while criticizing the Pakistan Muslim League-Nawaz (PML-N) said that appointing Maryam Nawaz as party vice president is against Supreme Court verdict.
Talking to media in Multan on Sunday, he said that if PML-N president Shehbaz Sharif's health condition would not allow him to perform responsibilities as the PAC chairman, how he would be able to act as the Opposition leader in the National Assembly, adding that Pakistan People's Party (PPP) also objected to the PML-N's decision of nominating Rana Tanveer as chairman of the Public Accounts Committee (PAC).
Reacting to the criticism of the opposition over hike in the prices of petroleum products, Qureshi said that hike was proposed by the ECC, adding that prices of petroleum products in Pakistan are less as compared to regional countries. "Increase in prices of petroleum products had been made due to rise of prices in international market."
The foreign minister while rejecting criticism by the opposition parties of the International Monetary Fund (IMF) proposed package, said that the deal was being struck due to wrong policies of the previous governments.
The minister said that those who were criticising the government over the IMF understanding had themselves availed the IMF packages in the past. He said that Pakistan Muslim League-N had contacted the IMF after they came to power in 2013. Similarly, the PPP government had also availed the facility during its tenure in 2008. Then why they were criticising the incumbent government, he asked.
"The government was availing the IMF package due to 10 years long wrong policies of the previous governments," the minister said and rejected the impression that the IMF was interfering in the issue of replacements of ministers. "A technical committee of the IMF was on a 15-day visit to Pakistan and talks were under way with the government," he added.
He said that the government had no differences with ally parties over the Local Governments Act-2019 as Pakistan Muslim League-Q (PML-Q) senior leader and Speaker Punjab Assembly Chaudhry Pervaiz Elahi had already rejected these rumours.
To a question, Qureshi said that special price control committees have been formed by the provincial government to control undue profiteering, adding that the Punjab government would ensure all steps to facilitate people during the holy month of Ramazan.
To another question, the foreign minister dispelled an impression of grouping in the party and said that Pakistan Tehreek-e-Insaf was his only group. He said that former finance minister Asad Umar was an asset to the party and would remain forever.