Last Updated On 04 May,2019 02:21 pm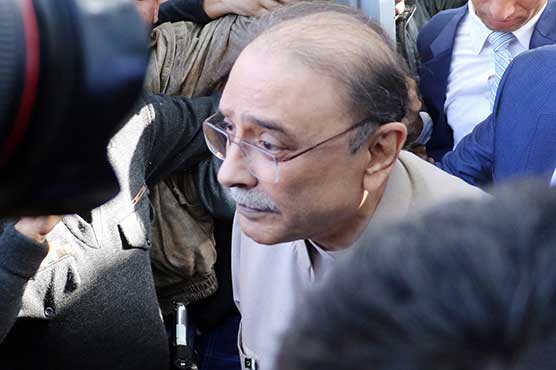 The IHC has extended the interim bail of Zardari and Talpur till May 15 in the same case.
ISLAMABAD (Dunya News) – In yet another important development pertaining to the money laundering through fake bank accounts case, the National Accountability Bureau (NAB) has decided to file a supplementary reference against former president Asif Ali Zardari and his sister Faryal Talpur among 30 accused persons nominated in the case.
Importantly, four accused persons Omni Group chief financial officer (CFO) Aslam Masood and officers of a private bank, including Kiran Aman, Noreen Sultan and Adeel Shah Rashdi have turned approvers against the Pakistan Peoples Party (PPP) leaders and others.
Also read: NAB remanded physical remand of an accountant of Park Lane Estates
Moreover, Federal Investigation Bureau's (FIA) investigation team, including investigation officer Muhammad Ali Abro has also been included in the NAB on deputation.
On April 29, the Islamabad High Court (IHC) extended the interim bail of Zardari and Talpur till May 15.
NAB prosecutor had told the court that Zardari and other accused persons were being investigated in 22 inquiries.
On April 13, Zardari had submitted his written response to the National Accountability Bureau (NAB) Rawalpindi on 54 questions in connection with three cases against him, including Park Lane Estate, Pink Residency, and fake accounts and money laundering.
Also read: Zardari submits written response to NAB questionnaire
Earlier, the case was being heard in a banking court in Karachi but had been shifted to an accountability court in Islamabad upon an appeal by the NAB.
The FIA had named Zardari, Talpur, Omni Group chairman Anwar Majeed, his sons and other suspects in a charge sheet filed in the banking court in August 2018 for alleged money laundering of billions of rupees through fake bank accounts in three banks - Summit Bank, Sindh Bank and United Bank Ltd.