Half Sindh yours, half ours: MQM-P raises new slogan in politics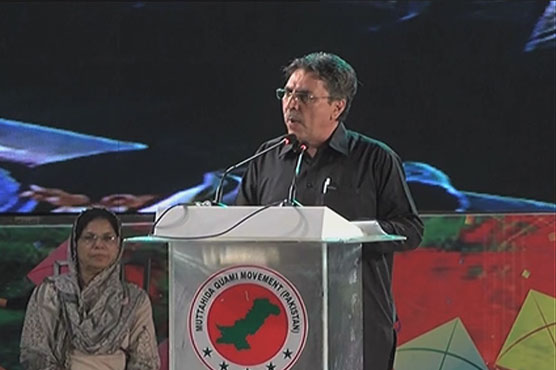 "Monopoly will not be accepted in the name of the 18th amendment," MQM-P Aamir Khan said.
KARACHI (Dunya News) – The Muttahida Qaumi Movement-Pakistan (MQM-P) on Saturday raised its political activities in Sindh province by chanting a slogan "half Sindh yours, half ours" in a bid for a separate province.
MQM-P senior leader Khalid Maqbool Siddiqui addressed a public gathering at Karachi's Bagh-e-Jinnah, and asserted that Pakistan Peoples Party (PPP) had already divided the province into half, while his party has only made the announcement.
Meanwhile, another party leader Aamir Khan said that from now onwards decisions made in Larkana would not be acceptable.
"Monopoly will not be accepted in the name of the 18th amendment," he said.
MQM-P Member of Provincial Assembly of Sindh Khawaja Izharul Hassan maintained that Muhajir people would remain impregnable.
Another party leader Faisal Subzwari attempted to demonstrate strength of the party by calling political rivals to witness that the party was still present and was not eradicated [from politics].
---
Sindh's politicians fire back at MQM
---
Adviser to chief minister Sindh on information Murtaza Wahab, in his exclusive talk to Dunya News, lashed out at the MQM-P by stating that the people of Sindh had rejected them and they were not pleased with politics over splitting of Sindh.
"It is unacceptable, Sindh has its own traditions and history," he said, adding that the MQM-P leaders were doing political point scoring over the matter for their personal gains.
He said that they should have lost their sleeps after such a failed public gathering. He also took to Twitter to share pictures showing empty seats at the rally. He said the MQM has now become the 'Muhalla [neighbourhood]' Qaumi Movement.
Pictures say a lot....i rest my case. Thank u Karachi pic.twitter.com/xWnHfPIFzQ

— SenatorMurtaza Wahab (@murtazawahab1) April 27, 2019
Local Government Minister Saeed Ghani also fired back and called the rally a failure. He said the people of Karachi have rejected the MQM.