PM Imran authorizes armed forces to respond decisively to any aggression by India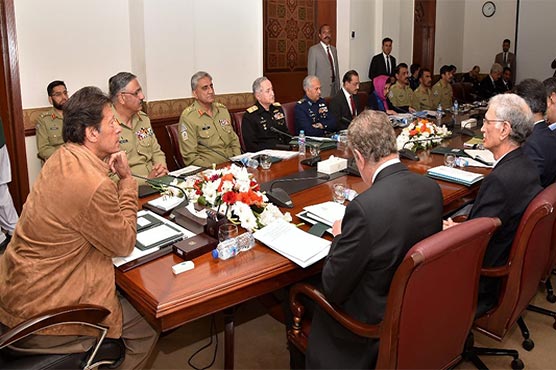 The meeting presided over by Prime Minister Imran Khan continued for more than three hours.
ISLAMABAD (Dunya News) - Expressing his resolve to defend the motherland, Prime Minister Imran Khan on Thursday authorized Armed Forces of Pakistan to respond decisively and comprehensively to any aggression or misadventure by India.
"This is new Pakistan and we are determined to demonstrate to our people that the State is capable of protecting them and believes that monopoly of violence stays with State. This will not come with commitment alone," the Prime Minister remarked during the National Security Committee (NSC) meeting in Islamabad.
"We recognize that terrorism and extremism are the top issues in the region and the whole region including Pakistan have suffered. Pakistan alone has endured over 70,000 casualties in the process besides heavy loss to national exchequer. That is why the National Action Plan conceived and issued in 2014, outlined concrete sequenced measures with consensus of all political parties and institutions of Pakistan."
"Having addressed direct threat to State of Pakistan, we need to move to ensure that militancy and extremism are routed from the society and the State never becomes hostage to extremists," he asserted.
In this regard, Prime Minister directed both the interior ministry and the security institutions to immediately accelerate actions on ground.
Responding to Indian allegations regarding Pulwama attack, the NSC said in unequivocal terms that the state of Pakistan is not involved in any way, means or form in Pulwama incident and it was conceived, planned and executed indigenously.
"Pakistan has sincerely offered investigation of the incident and dialogue on the issue of terrorism among other disputed issues with India," the forum said.
The committee said based on the investigation or any tangible evidence provided, State of Pakistan shall take action against anyone found using our soil. However, India also needs deep introspection to realize that why people of Occupied Kashmir have lost fear of death. The violence by Indian forces in Occupied Kashmir is highly counterproductive, it added.
The Committee urged the global community to play its part in resolving the long pending Kashmir issue in accordance with UN resolutions and aspirations of the Kashmiris.
ALSO READ: Will retaliate against Indian aggression without thinking, vows PM Imran
Addressing the nation on the state media on Tuesday, Prime Minister Imran Khan had categorically declared that Pakistan will retaliate with full force in case of any aggression by India over the Pulwama incident.
"Pakistan will not think of retaliation, we will retaliate," the Prime Minister warned India.
He said the Indian leadership must realize that it is easy to trigger a war but it would certainly be not in any one's control to end it as per his desire. He said they should also note that where such a provocation will take the two countries and the region.
The Prime Minister however hoped that better sense will prevail in India and they will come to the negotiating table to sort out the matter through dialogue.
Imran Khan questioned as to what law of the world grants a right to any person or country to act as a judge, jury and executioner in any such incident. He also took serious exception of the ongoing rhetoric among the Indian leadership and society stressing for a military strike against Pakistan.
Imran Khan regretted that the Indian government started Pakistan bashing soon after the Pulwama incident without any investigation. He said as to how Pakistan can even think of engaging itself in any such unwarranted situation, when it was hosting Crown Prince of Saudi Arabia Muhammad Bin Salman in Islamabad.
The Prime Minister said we will do it not under any pressure but with a conviction that we will neither allow anyone to use our land for terrorism nor allow anyone to commit terrorism against us.