Will retaliate against Indian aggression without thinking, vows PM Imran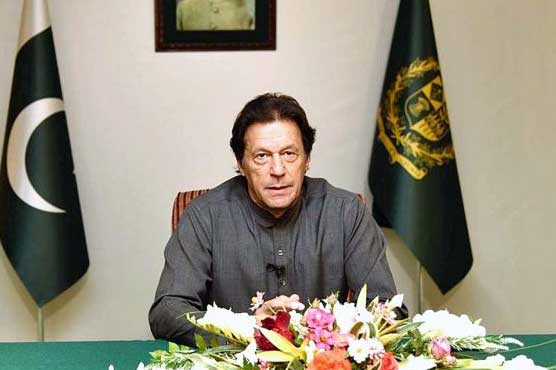 Pakistani will retaliate to any aggression, PM Imran tells India.
ISLAMABAD (Dunya News) – Pakistan Prime Minister (PM) Imran Khan Tuesday vowed to retaliate against any Indian aggression without thinking after New Delhi accused Islamabad of involvement in the Pulwama attack.
"Pakistan will not think of retaliation, Pakistan will retaliate," he pronounced.
Imran Khan addressed the nation in a video message and said India alleged Pakistan without any evidence. The premier told India to leave its "judge, jury and execution" approach. He said, "War is easy to start but difficult to end as it does not remain in human hands afterwards. It is not a sane approach to start a war."
Imran Khan said New Delhi needs to rethink its policies regarding Kashmir because oppression against them will not improve the situation. He urged India to move towards dialogues.
ALSO READ: Pakistan rejects baseless Indian allegations regarding Pulwama attack
He said Pakistan has no benefit in conducting such operations, especially when Islamabad was planning to sign historic deals with Saudi Arabia upon the visit of Crown Prince Mohammed bin Salman.
"Only a fool would do such a thing to sabotage the visit of the crown prince. Pakistan is going towards stability and fighting against terrorism," he added.
The premier said India is stuck in the past, it blames Pakistan 'again and again' whenever any unwanted incident happens. "This is new Pakistan," he continued, "our interest is not in terrorism but stability."
He offered India of full support in carrying out the investigations and guaranteed to take action 'without any pressure' against the responsible if India provides Pakistan with any evidence or intelligence.
"It is against our own interests if Pakistan's soil is used to facilitate terrorists," he affirmed. Imran Khan said terrorism is the issue of the whole region, and Pakistan itself is the biggest victim.
"70,000 people have been killed and $100 billion lost by Pakistan in war against terrorism," the premier told.
---
FM QURESHI WRITES LETTER TO UN CHIEF
---
Earlier today, Foreign Minister Shah Mahmood Qureshi wrote a letter to the UN Secretary General.
"It is with a sense of urgency that I draw your attention to the deteriorating security situation in our region resulting from the threat of use of force against Pakistan by India." the Foreign Minister stated.
He said the Pulwama attack on Indian Central Reserve Police Force was ostensibly and even by Indian accounts carried out by a Kashmiri resident of Indian Occupied Kashmir. Attributing it to Pakistan even before investigations is absurd.
"For domestic political reasons, India has deliberately ratcheted up its hostile rhetoric against Pakistan and created a tense environment. It has also hinted that it may abandon the Indus Waters Treaty. This would be a grievous error."
He said it is imperative to take steps for de-escalation and urged the United Nations to step in to defuse tensions.
FM Qureshi stated that India must be asked to conduct an open and credible investigation on Pulwama incident.
"You may also consider asking India to refrain from further escalating the situation and enter into dialogue with Pakistan and the Kashmiris to calm the situation down."
He also request that this letter be circulated to members of the Security Council and General Assembly.