Zardari meets Shehbaz over possible joint alliance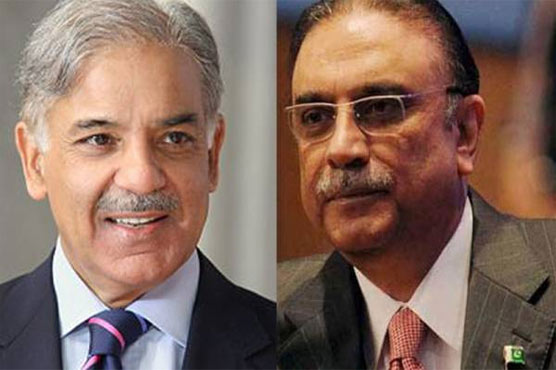 Sharif welcomed Zardari and Bilawal upon their arrival at his chambers in Islamabad.
ISLAMABAD (Dunya News) – The Leader of the Opposition in the National Assembly and Pakistan Muslim League - Nawaz (PMLN) president Shahbaz Sharif and Pakistan Peoples Party (PPP) co-chairman Asif Ali Zardari met on Tuesday (today) to examine a possibility of joint opposition amid current 'uncertain' political situation in the country.
Reportedly, the younger Sharif welcomed Zardari and his son Bilawal upon their arrival at his chambers in Islamabad.
In his reply to a question concerning Prime Minister (PM) Imran Khan's tweet, Zardari responded ironically that the opposition has been walking out of the parliament from the very beginning of the sessions and asked "Why the NRO has not been given since then?"
He further stated that the government was not in position of giving anything, and the party would respond appropriately in the parliament upon arrival of the PM.
"Neither we want the NRO nor the government can give us," he went on to say.
Meanwhile, the leaders of both parties have also analysed their position in the senate, national assembly and political affairs in Balochistan province.
After the defeat in the general elections in July 2018, Jamiat Ulema-e-Islam (JUI) Chief Maulana Fazl-ur-Rehman had tried to bridge a gap between the two rival political parties.
However, he could not persuade the leadership of the PMLN and the PPP for an alliance at that time.