Bilawal, Asif Zardari not to appear before NAB on Thursday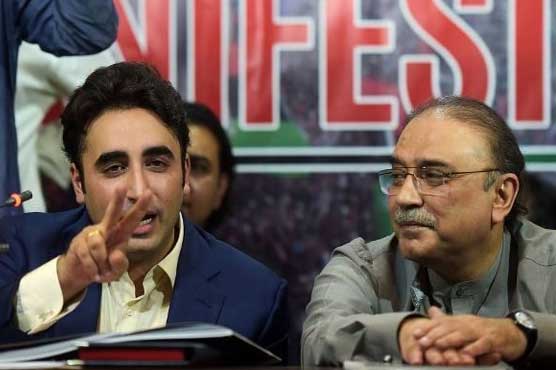 The meeting decided that the lawyers would appear before the NAB on behalf PPP chairman, co-chairman
KARACHI (Dunya News) – Former president and Pakistan Peoples' Party (PP) co-chairman Asif Ali Zardari and his son and party chairman Bilawal Bhutto Zardari on Wednesday decided not to appear before the National Accountability Bureau (NAB).
An important meeting of the party leadership was held in Karachi with Bilawal Bhutto Zardari in chair. PPP leaders Syed Khursheed Shah, Nayyer Bukhari, Qaim Ali Shah, Qamar Zaman Kaira, Makhdoom Ahmad and Nisar Ahmad Khuhro were also present in the meeting.
Speaking on the occasion, the PPP chairman said that his party has suffered at the hands of all the dictators of past and their chosen henchmen but never compromised on its ideology and struggle meant for emancipation of the masses from perpetual exploitation at the hands of undemocratic and pseudo-democratic forces.
Bilawal endorsed the views of party leaders that PTI government has unleashed a victimization campaign brazenly targeting PPP and other Opposition parties after a shameless dry-cleaning drive for inducting a puppets' regime against the will of collective wisdom of the nation.
The meeting noted that PTI government was in fact drumming up cosmetic and hollow projects as its poor and directionless policies together with sky-rocketing inflation were leading the national economy to a disastrous nosedive.
The meeting expressed deep concern over the ruthless anti-encroachment drive by the PTI government where poor segment of the society has been specifically targeted without chalking out any compensation plan thus snatching the livelihood of hundreds of thousand Pakistanis. Instead of providing employment, the puppet regime was turning thousands into jobless.
The meeting decided that the lawyers would appear before the NAB on behalf Asif Ali Zardari and Bilawal Bhutto Zardari.
Earlier, the National Accountability Bureau (NAB) had summoned the PPP chairman and co-chairman on December 13.
The notice had been sent in pursuance of a case regarding Park Lane Estates (Pvt) Limited, a Karachi-based real estate firm. Bilawal's name is among the shareholders of the company.
While confirming the report, senior party leader Farhatullah Babar said Bilawal received a notice from NAB Rawalpindi, however his legal counsel Farooq H Naek will appear before the anti-graft watchdog instead of the PPP chairman.
The executive board of the NAB on May 23 had approved an investigation against the Capital Development Authority officials for allegedly allotting land belonging to Punjab Forest Department to Park Lane Estates (Pvt) Limited. The firm was previously owned by Zardari, Bilawal and a few others.