Last Updated On 15 November,2018 07:28 pm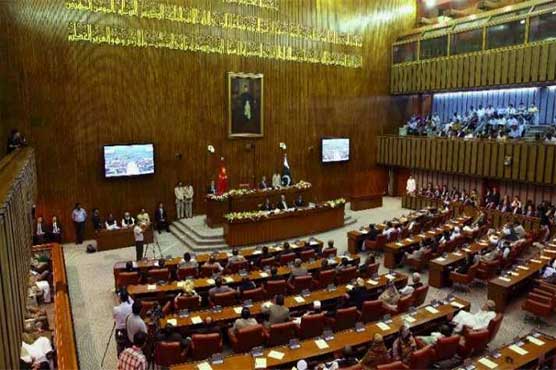 Aafia Siddiqui had requested PM Imran Khan for her release
ISLAMABAD (Dunya News) – Senate on Thursday unanimously passed a resolution seeking serious steps from the government to get Dr Aafia Siddiqui, released from the US prison.
According to details, the resolution was tabled by JUI-F Senator Talha Mahmood. The resolution stated that the Upper House of the Parliament express concern over the imprisonment of the Pakistani neuroscientist.
It further stated that the House strongly condemns Siddiqui's continued detention.
The resolution further demanded the government should take measures to ensure release of Dr Aafia Siddiqui from the US prison.
On November 7, Foreign Office in a statement said that Pakistan government had been raising the issue of Dr Aafia Siddiqui with the US authorities regularly.
The foreign office said that Pakistan's Counsul General in Houston paid visits to Dr Siddiqui, periodically, to inquire about her wellbeing and conveys her messages to Dr Aafia's family if any.
It said that the issue of respecting the human and legal rights of Dr Aafia Siqqiqui was also raised in the meeting with Ambassador Alice Wells yesterday and the US side has promised to look into our request.
Earlier last week, Aafia Siddiqui, the Pakistani woman jailed in the US had requested Prime Minister Imran Khan for her release.
Diplomatic sources told Dunya News that Siddiqui wrote a letter to PM Imran Khan which she handed over to Pakistani Consul General during his visit to the prison.
In her letter to the prime minister, she said that Imran Khan had supported her in the past and appealed the premier for help to get her release from the jail. "I want to get out of prison, my imprisonment in the US is illegal as I was kidnapped and taken to the US," she said.
She further said she has always considered him as one of her biggest heroes and wish to see him as the Khalifa of all Muslims. He should be careful of the munafiq around him.
She further threw challenge of debate to anyone who has doubts on Imran Khan.
In September 2010, Aafia Siddiqui, the female Pakistani scientist convicted of attempting to kill US military personnel, had been sentenced to 86 years in prison.
Siddiqui was interrogated by US officials in Afghanistan when she grabbed a rifle and opened fire, shouting "death to Americans".
Prosecutors in New York had called her an al Qaeda sympathiser and sought life imprisonment.