Jan Muhammad relinquishes charge as Islamabad IG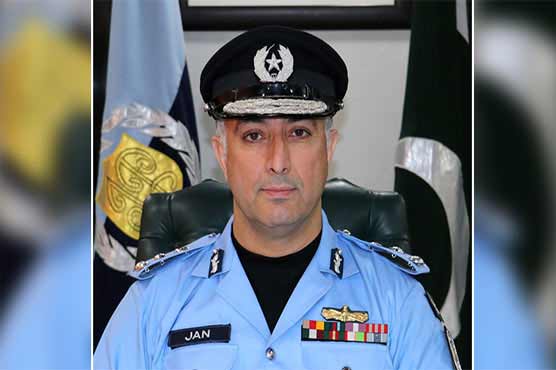 SC withdrew its decision of suspending the transfer of Islamabad IG Jan Mohammad.
ISLAMABAD (Dunya News) – Jan Muhammad on Friday has relinquished charge as Islamabad Inspector General of Police (IG), following a fiasco over his transfer.

According to details, Deputy Inspector General (DIG) Waqar Chohan has been appointed as acting IG until the appointment of a permanent official.
Earlier today, Supreme Court (SC) withdrew its decision of suspending the transfer of Islamabad IG Jan Mohammad.
During the hearing of suo motu case, Chief Justice of Pakistan (CJP) Mian Saqib Nisar issued notice to Federal Minister for Science and Technology Azam Khan Swati over issuing transfer orders of Jan Mohammad for not picking up his call.
The top judge sought explanation from Swati, threatening to disqualify him. He also ordered for scrutiny of minister's properties.
Meanwhile, CJP formed Joint Investigation Team (JIT) and directed Intelligence Bureau (IB), Federal Investigation Agency (FIA) and National Accountability Bureau (NAB) to finalise names of the members.

The JIT will submit report within 14 days, he ordered.

CJP had taken suo motu notice of the case and said, "I heard that Islamabad IG was transferred over not picking phone of a minister. Secretary interior has to reveal real reasons behind transfer of Jan Mohammad", remarked CJP.
"It also came to light that matter of phone call is linked to son of a minister. We will not allow anyone to weaken state-institutions. Writ of law would be established at all cost", remarked CJP.

Secretary interior had alleged that decision of transferring Islamabad IG Jan Mohammad was taken without his knowledge.
Federal Minister Azam Khan Swati stated he had not committed any wrongdoing in case pertaining to transfer of Islamabad IG Jan Mohammad. He told that his house was attacked and employees were injured. "I approached Islamabad IG as a common citizen but he did not pick my call for 22 hours", the minister was quoted as saying.

On Thursday, Jan Muhammad returned from Malaysia and resumed charge as Islamabad IG. A petition of federal government seeking appointment of new Islamabad IG was also rejected by SC.