Islamabad IG fiasco: CJP accepts Fawad's explanation, hints at constituting committee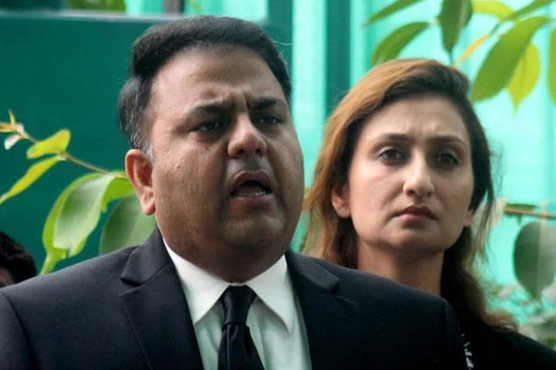 CJP invited federal minister to read with him section-4 of the constitution.
ISLAMABAD (Dunya News) – After making controversial statements about apex court's verdict on suo motu notice on transfer of Islamabad Inspector General of Police (IGP) Jan Mohammad, federal minister for information and broadcasting Fawad Chaudhry on Wednesday informed the Supreme Court of Pakistan (SC) that he 'lacks courage' to make statement against judiciary.
He made these remarks after SC took strong exception to 'irresponsible' statement of information minister Fawad Chaudhry ridiculing the court over suspension of verbal orders of PM.
"Under what capacity, you are issuing taunting statements. Let us telecast the video of your remarks in the court", remarked Chief Justice of Pakistan (CJP).
CJP also invited federal minister to read with him section-4 of the Constitution.
Later, CJP took notice back.
CJP lashed out at Azam Swati for taking hostage people by installing chain-link fencing around whole area. "After hearing the stance of the all plaintiffs, we will decided whether to constitute committee on the matter or not", remarked the top judge.
Talking to media after appearing in the court, Chaudhry claimed that he addressed bureaucracy in his yesterday's statement. He reiterated that Prime Minister (PM) Imran Khan is chief executive of the country and that his policies will be implemented.
---
Fawad Ch s statement
---
Irked by suspension of orders of Islamabad IG, Fawad Chaudhry inquired that what the point of holding general elections was if prime minister couldn't even suspend an IG.
The firebrand minister further added that it is unacceptable for the incumbent govt that bureaucracy runs state-affairs.
"What is point of holding general elections if premier can't even suspend an IG", stated the minister while adding, "There will be no democracy in the country if IGs, DSPs and SPs don't pay heed to the orders of PM and ministers".
Fawad made it overtly clear that PM and ministers will exercise their powers bestowed on them by the Constitution. Fawad regretted that a narrative was being promulgated that bureaucrats would become heroes if they disobeyed govt's order.
It would be suffice here to say that SC had quashed PM Imran Khan's verbal orders and reinstated Islamabad IG Jan Mohammad.