SC summons Fawad Chaudhry over remarks about Islamabad IG transfer case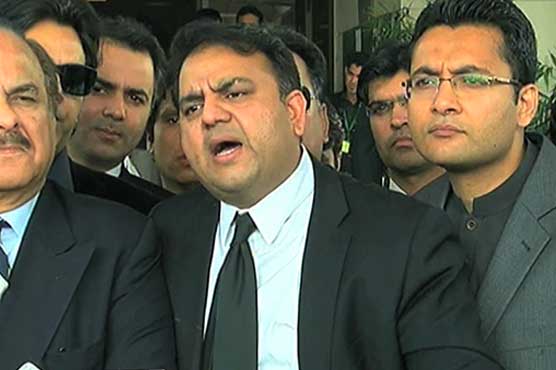 Apex court has summoned the information minister and Azam Swati today.
ISLAMABAD (Dunya News) – Supreme Court of Pakistan (SC) on Wednesday has taken notice of statement of federal minister for information and broadcasting Fawad Chaudhry on issue of transfer of Islamabad Inspector General of Police (IG) Jan Mohammad.
As per details garnered, apex court has summoned the information minister and Azam Swati today.
"Fawad Ch has asked to run state affairs through bureaucracy. [We] Will unearth who is behind the veil", remarked Chief Justice of Pakistan (CJP) Justice Saqib Nisar.
CJP also instructed Azam Swati to bring with him documents of ownership of farm house whereas video copy of Fawad's fulmination has also been summoned.
"In the prima facie, Fawad Ch had made remarks on court's proceedings", remarked CJP.
"Ministers inquire that how a court can bar govt from transferring an IG. The same court had ousted a premier", remarked CJP while observing that Fawad Ch gives statements against the apex court. "Is chief justice also compelled to pick calls of ministers", inquired CJP.
"Yesterday, the purpose of holding general elections in country was questioned. I will explain [Fawad Ch] the point of holding polls", stated CJP.
---
Fawad Chaudhry s statement
---
Irked by suspension of orders of Islamabad IG, Fawad Chaudhry inquired that what the point of holding general elections was if prime minister couldn't even suspend an IG.
The firebrand minister further added that it is unacceptable for the incumbent govt that bureaucracy runs state-affairs.
"What is point of holding general elections if premier can't even suspend an IG", stated the minister while adding, "There will be no democracy in the country if IGs, DSPs and SPs don't pay heed to the orders of PM and ministers".
Fawad made it overtly clear that PM and ministers will exercise their powers bestowed on them by the Constitution. Fawad regretted that a narrative was being promulgated that bureaucrats would become heroes if they disobeyed govt's order.
It would be suffice here to say that SC had quashed PM Imran Khan's verbal orders and reinstated Islamabad IG Jan Mohammad.