'No corrupt person will get NRO': PM Imran addresses nation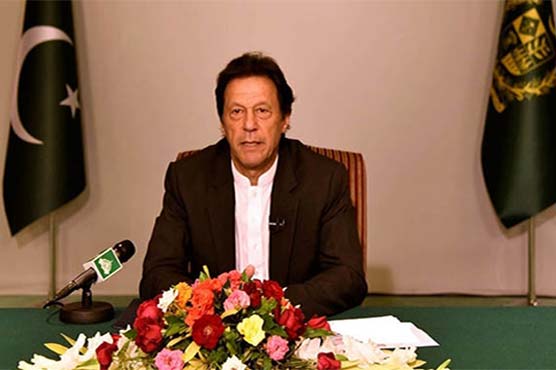 Prime Minister Imran Khan addressed the nation on Wednesday.
ISLAMABAD (Dunya News) – In his video message on Wednesday after successfully concluding his visit to Saudi Arabia, Prime Minister Imran Khan took nation into confidence regarding measures adopted by the PTI government to deal with ongoing economic crisis,
After securing financial assistance from Saudi Arabia, Prime Minister Imran Khan said that Pakistan 'is now in a better position'.
READ: Saudi Arabia agrees to give Pakistan $3bn as balance of payment support
"My Pakistanis, today I am here with a good news for all of you. We were facing really hard times. We were highly pressurized into paying heavy debts. But thanks to Saudi Arab's extension of assistance, we are out of the pressure," the Prime Minister stated.
He said the country had limited resources as it was at the brink of becoming defaulter and the government had only two options; either go to International Monetary Fund (IMF) or seek help from friendly countries.
"If we had gone to IMF directly, we'd have had to borrow more money and that would have meant stricter conditions which would crush our poor strata of society. But now we are in a better position," PM Imran Khan said.
"We are in talks with two more friendly nations and hopeful of more good news."
He mentioned that the government's highest priority has been to protect the salaried class from economic pressures.
---
'Rs1,200 bn as circular debt'
---
In an apparent response to the opposition parties' expected move to table resolution against the PTI government in the National Assembly, Prime Minister Imran Khan lashed out at Pakistan Muslim League Nawaz (PML-N) and Pakistan Peoples Party (PPP), stating that both the parties who have been ruling Pakistan for the last ten years have accumulated Pakistan's debts from Rs6,000 bn to Rs30,000 bn. In addition to that, the previous government has left Rs. 1,200 bn as circular debt.
"Today they have the audacity to unite against us and overthrow us on basis of "administrative failure". We haven't even started operating in full swing as of now. We are just auditing what has happened in past," he added.
---
'No corrupt person will get NRO'
---
The Prime minister said those who are criticizing the current government are the ones who burdened the country's economy with their ill economic planning and corruption. He said those elements are trying to raise hue and cry as they are afraid of their accountability.
"They are trying to blackmail us. But if these parties want to protest, they're more than welcome. We will give them container. We will also give them dinner everyday but what we will never give them an NRO," he clarified.
"The two parties that have been ruling Pakistan have not even spared welfare fund of workers. People in Steel Mills have been robbed of their welfare funds even. Then they have audacity to stand up against us."
Giving his views on recent revelations of fake bank accounts, Khan said that Rs2.5 billion are emerging in a Falooda seller's account, billions are found in a dead man's account. What is all this money? This is your and my tax money that is then sent abroad. Our govt is going after the money launderers behind this and there will be no NRO.
"The corrupt think they will get another NRO just like they got from Musharraf. Make no mistake, there will be no NRO. Our govt is adamant to take on corruption," he stated.
"They say our govt is influencing cases against opposition. Let me enlighten everyone, we haven't even started taking on the corrupt. These cases are all filed in previous govt tenure."
"Some people get intimidated by the state of affairs. Listen to me, when a doctor has to perform surgery & remove cancer, it hurts for the time being but in the long run, it cures the patient. We are currently performing the painful surgery."
---
Mediator in Yemen crisis
---
He also announced that Pakistan will try to play the role of a mediator in the Yemen war involving Saudi Arabia.
"One more thing I want to share with my Pakistanis is that we are acting as a mediator in the on-going crisis of Yemen. We are playing a positive role in mediating matters so as to unite the Muslim World," he said.
---
'Good times are ahead'
---
While concluding his speech, the Prime Minister asked the nation to be patient in this difficult time as the future holds a prosperous and developed Pakistan. He said Pakistan is endowed with immense resources and potential and it will make progress at a rapid pace once corruption is curtailed.
He said an investor enabling Pakistan will be created where people from other countries will come to Pakistan to invest. He said our objective is to create a Pakistan which grants loans to other countries for their development.