Another Friday Another Blow to PMLN - Shahbaz Sharif arrests in Ashiana Scandal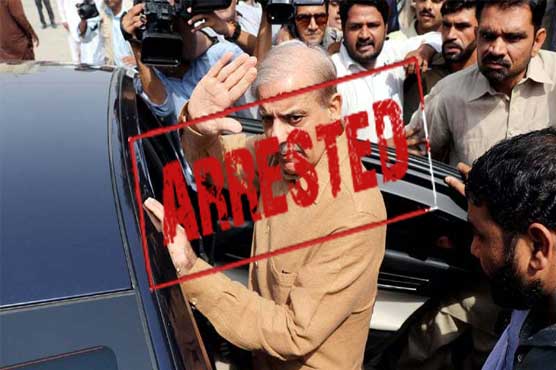 A glance over few of the past 'Fridays' that have proven significant in PMLN recent history.
(WebDesk) - Another Friday another blow to the Pakistan Muslim League – Nawaz as it has been running in a strange history of troubles and tribulations in association with Friday.
Jummah -The Friday - clutches quite interesting and imperative significance with regards to the problems mounted on PMLN - sometimes as the rulings announced by the courts against PMLN and sometimes the political developments go against the party.
Friday October 05, 2018 lands PMLN in hot waters again as in recent development, Former Punjab chief minister and incumbent Leader of the Opposition - a sitting memeber of National Assembly and President of Pakistan Muslim League - Nawaz, Shahbaz Sharif has been arrested by the National Accountability Bureau (NAB) at its Lahore office in the Ashiana Housing scam case. The Leader of the Opposition in the National Assembly has been accused of corruption in the Ashiana Housing case. He will be produced before an accountability for remand tomorrow.
Ashiana Housing Scandal - What are the allegations?
Former PMLN led Punjab government under the leadership of former Chief Minister of Punjab Shahbaz Sharif had planned to provide low-income strata with the houses in Paragon Housing Society under the Ashiana Scheme in March 2018.
Former Cm Punjab Shahbaz Sharif is alleged to give only a land of 1000 kanals to the developers from 3000 kanals initially allocated for the scheme. Last November, National Accountability Bureau (NAB) has initiated the investigations in Ashiana Housing Scandal when they received multiple complaints
CM Punjab has been facing of following accusations in Ashiana Housing Scheme. NAB found illegal occupation and irregularities of agreement of government land allocated in Ashiana Housing Scheme.
Shahbaz Sharif is also accused of granting Ashiana Housing Society Project to a favorite company instead of the company which bid high. In the same scandal, principal secretary of former Prime Minister Nawaz Sharif Fawad Hassan Fawad and the former chairman of Lahore Development Authority and a close aide of Shahbaz Sharif, Ahad Cheema have already been taken into custody by NAB and are still in jail on judicial remand.
Fawad Hassan Fawad was taken into the custody to assist in concealment of Ashiana Housing inquiry report which has the investigations against the entitlement of the contract given to the preferred company instead of the highest bidder. Ahad Cheema is also accused of assisting in granting contract to the chosen company in same case.
Also Read: NAB arrests Shehbaz Sharif in Ashiana Housing scandal
It is exclusively not the first time that the Friday wreaks havoc for PMLN and Sharifs. It is being said sarcastically that the sacred day of Friday has turned into a nightmarishly devestating dooms day for Shairfs.
The court has incessantly chosen Friday to issue the judgments which shocked not only PMLN or Sharifs also have impated over country's political landscape.
Here s a glance over few of the past Fridays that have proven significant in PMLN recent history. Below is the list of historical verdicts jolted Sharifs, announced on Fridays:
---
Friday July 06, 2018 was the biggest glitch for Sharifs. An accountability court gave ruling against the former Premier and PMLN supremo Mian Muhammad Nawaz Sharif and his family.
An accountability court on Friday July 06, 2018 jailed former prime minister and Pakistan Muslim League-Nawaz (PML-N) supremo Nawaz Sharif, daughter Maryam Nawaz and son-in-law Captain (r) Muhammad Safdar for 10, 7 and 1 year respectively, in Avenfield properties refernce case filed by National Accountability Bureau.
Also Read: Nawaz handed 10, Maryam 7 years imprisonment in Avenfield reference
For more: A timeline of Panama Leaks case progression
---
Friday April 13, 2018, SC disqualified former Prime Minister Nawaz Sharif under Article 62 (1) (F). The top court in its July 28 ruling of last year had disqualified Nawaz Sharif as president of the ruling Pakistan Muslim League-Nawaz (PML-N), while Pakistan Tehreek-e-Insaf (PTI) leader Jahangir Tareen was disqualified under Articles 62 of the constitution.
---
Friday December 15, 2017, SC turned down PMLN's Hanif Abbasi plea seeking disqualification of Imran Khan while Jahangir Tareen was disqualified under Article 62(1)(f).
On same day, SC also turned down NAB's plea to reopen Hudaibiya Paper Mills case against junior Sharif.
---
Friday July 28, 2017 On this day, the top court disqualified Nawaz Sharif from holding public office in the Panama Papers case and also directed anti-graft watchdog to open references against him, his family. NAB has filed three refrences against Nawaz Sharif, his two sons, Hassan Nawaz, Hussain Nawaz, daughter MaryamNawaz and son-in-law Capt. Rtd. Safdar.
Also Read: What happened when: A brief timeline of the JIT proceedings
---
Most of the Fridays have brought predicaments and hitches to PMLN and PMLN leadership though some brought relief too.
---