Imran congratulates Alvi on election win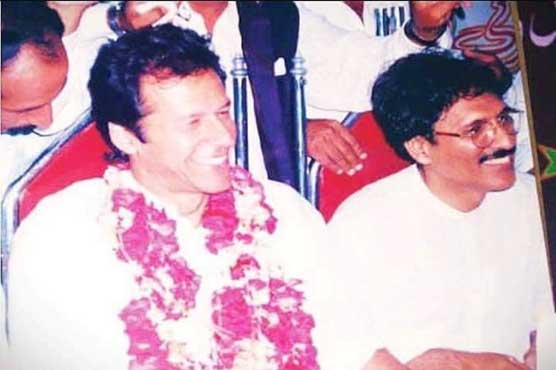 The prime minister also shared an old picture showing a young Dr Alvi sitting next to him.
ISLAMABAD (Dunya News) - Prime Minister Imran Khan Tuesday congratulated Dr Arif Alvi of Pakistan Tehreek-e-Insaf (PTI) on being elected as president.
"Congratulations to Dr Alvi on being elected as president," the prime minister said in a tweet. He also shared an old picture showing a young Dr Alvi sitting next to him. "When our world was younger!" read the caption.
Dr Arif Alvi was elected as the 13th President of Pakistan on Tuesday after securing majority of votes in the National and provincial assemblies.
According to unofficial results, Alvi managed to get 212 votes in parliament, 186 in the Punjab Assembly, 56 votes in Sindh, 78 in KP and 45 votes in the Balochistan Assembly.
He is set to take oath on September 9, a day after incumbent President Mamnoon Hussain retires. Once considered the most powerful figure in Pakistan, the president is now largely a ceremonial figure.
Alvi said he would try to deliver his best as the head of state. "I am not just a president of one party, rather of all political parties and the nation," he added.
---
Who is Arif Alvi?
---
Born in 1949 and a dentist by profession, Dr Arif Alvi is among the founding members of PTI.
Alvi acquired his dental degree BDS (Dentistry) from de'Montmonrency College of Dentistry, an affiliate of the Punjab University.
He received Master of Science degree in Prosthodontics from the University of Michigan, Ann Arbor in 1975. At University of the Pacific, San Francisco, he completed a Master of Science in Orthodontics in 1984.
Alvi ran for the seat of Provincial Assembly of Sindh as a candidate of PTI from constituency PS-114 (Karachi) in Pakistani general election, 1997, but remained unsuccessful. He again ran for the provincial assembly seat in 2002 elections on PTI ticket from PS-90 (Karachi-II) but was unsuccessful and secured only 1,276 votes. He served as PTI secretary general from 2006 to 2013.
He was elected as member of the National Assembly of Pakistan for the first time in general election 2013 on PTI ticket from NA-250. Alvi was the only PTI member to win a National Assembly seat from Sindh in 2013 elections. In 2016, he was made president of PTI Sindh chapter.
Alvi was re-elected to the National Assembly as a candidate of PTI from constituency NA-247 (Karachi South-II) in general election 2018.