Orange Line Metro Train service likely to start from July 30, 2019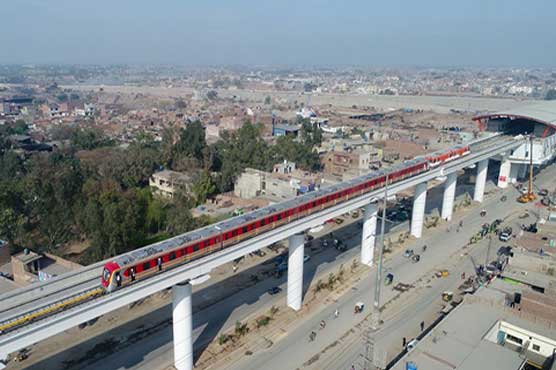 The court has ordered to inform till 2pm after holding meeting.
ISLAMABAD (Dunya News) – Project director of Orange Line Metro Train on Thursday has told that the service is likely to be started from July 30, 2019.

During the hearing of the case pertaining to OLMT, Chief Justice of Pakistan (CJP) Mian Saqib Nisar expressed resentment over delay in the completion of the project on which, the director said that the construction was stopped for about 22 months.
The top judge said that there are complaints about substandard work regarding the project. We should call chief minister of Punjab and finance minister in this regard, he suggested.
Subsequently, the court has ordered to inform till 2pm after holding meeting.
Earlier, mega train project had completed its first successful trial run inside the depot at Waran Gujran.
---
About Orange Line Metro Train project
---
In May 2014, Punjab government had signed a project with Chairman of the Chinese National Development Reforms Commission regarding construction of an Orange Line Train in Lahore so that the metropolis will depict a melange of the traditional and the modern.

The train route will be 27.1 kilometer long, spread from Ali Town to Thokar Niaz Baig, from Multan Road to Scheme Mor, Chowburji, MAO College, Mall Road, Laxmi Chowk and Railway Station, from Garhi Shahu Bridge to GT Road and UET and from Pakistan Mint to Dera Gojran.
---
Also Read: How Orange Line Train project will look like after completion
---
The Orange Line Train is said to be the common man's ride that will move through places where people with low income and living standards are spending lives.

The original deadline for the project was December 25, 2017.
---
Estimated cost for OLMT
---
According to Punjab's new budget, the biggest development project in the history of Lahore, Orange Line Metro Train Project, has been allocated the largest amount of finance in the history of development projects.

Rs 93 billion has been allocated for the project in the development budget of Punjab for this year, which is Rs 8 billion more than the amount allocated last year.
---
Also explore - In Pictures: This is how Lahore Orange Line train looks like
---
No development project has ever been allocated such an amount from the budget. The fact that such a huge amount has been dedicated to this project shows the interest of the Punjab government in the completion of this project.

It also shows that this is the Punjab government's star project, which they aim to cash on in the next general elections.