NRO case: Zardari denies offshore properties in affidavit to SC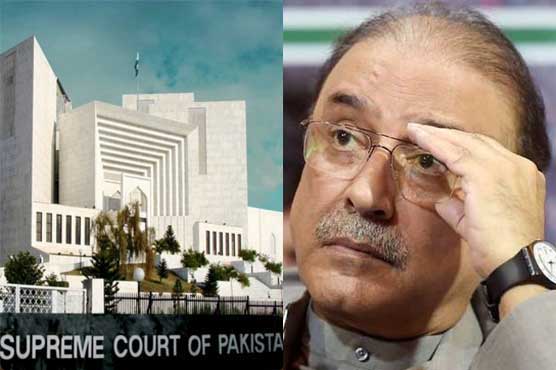 A three-member SC bench will hear the case on Wednesday.
ISLAMABAD (Dunya News) – Former president and Pakistan People's Party (PPP) co-chairman Asif Ali Zardari submitted assurance Tuesday he had no property or bank accounts outside of Pakistan.
Farooq H Naek submitted the one-page affidavit on behalf of the former president to the Supreme Court in a case pertaining to the National Reconciliation Ordinance.
A three-member bench headed by Chief Justice of Pakistan Justice Saqib Nasir will hear the case on Wednesday.
The National Accountabiliy Bureau (NAB) in its reply to the Supreme Court said the anti-graft watchdog had to close its National Reconciliation Ordinance inquiry in 2012 due to dismissal of the plea by the Swiss government.
NAB said the Swiss authorities dismissed Pakistan's appeal to reopen investigation into alleged corruption by Zardari as the government did not submit plea within the time frame.
The graft cases were shelved in 2007 after then attorney general Malik Qayum wrote letters to the Swiss authorities following the promulgation of the NRO by then-president Musharraf. The Supreme Court, however, scrapped the NRO in 2009 and declared that all cases closed under the defunct law stood open.