Usman Buzdar sworn in as 26th Punjab CM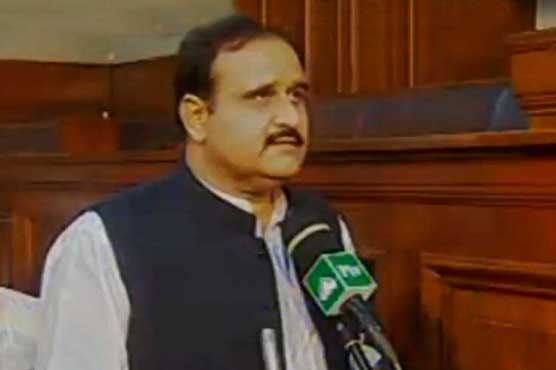 On Friday, Imran Khan had announced Buzdar's name as a candidate for the post of CM Punjab
LAHORE (Dunya News) – Sardar Usman Buzdar on Monday was sworn in as the 26th chief minister of Punjab.
The ceremony was held at the Governor House where acting Punjab governor Chaudhry Pervaiz Elahi administered the oath to the 26th Chief Minister of Punjab.
A large number of Pakistan Tehreek-e-Insaf (PTI) leaders attended the oath-taking ceremony.
On Sunday, Pakistan Tehreek-e-Insaf's (PTI) Usman Buzdar had been elected as 26th Chief Minister of Punjab to serve the province for next five years.
In the House of 358, an aspirant required 178 votes to become CM and House's leader. However, Buzdar emerged victorious after obtaining 186 votes against Pakistan Muslim League-Nawaz's (PML-N) Hamza Shahbaz who secured 159 votes.
---
Buzdar addresses Punjab Assembly

---
Newly elected Punjab Chief Minister, Usman Ahmad Buzdaar had thanked PM Imran Khan for reposing confidence in him for the Chief Minister's responsibility.
He said his government will implement Imran Khan's vision for progress of country.
The CM said that he belongs to a backward area of province and his government will work for the progress of backward areas.
---
Imran nominated Buzdar as Punjab CM
---
On Friday, prime minister Imran Khan had announced Buzdar s name as a candidate for the post of CM Punjab via a video message.
Explaining his decision, the PTI chief had said: "Sardar Usman hails from the most impoverished area of Punjab. These people have no water, no electricity, no hospitals.
"Sardar Usman knows the struggle of a poor man. He is the only MPA who doesn t have electricity in his house. I have faith in him and God willing he ll deliver."
Buzdar is an advocate and a landlord by profession. Born in May 1969, in the tribal stretch of Dera Ghazi Khan in Punjab, Buzdar is the eldest of five brothers and sisters. While he received his early education from his family village, Barthi, he later enrolled at Multan's Bahauddin Zakariya University for a masters in political science and then completed an LLB.