Last Updated On 13 August,2018 06:43 pm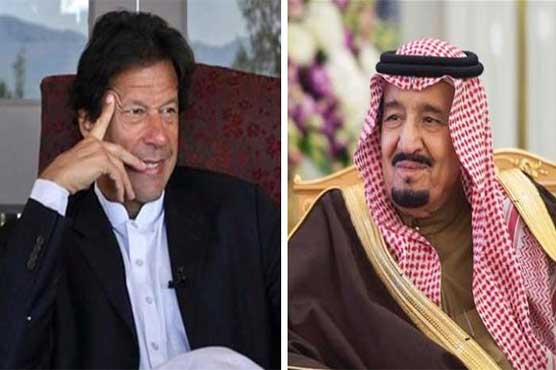 Khan reiterates Pakistan's commitment to the security and protection of the Holy Mosques
ISLAMABAD (Dunya News) – Saudi King Shah Salman on Monday telephoned Pakistan Tehreek-e-Insaf (PTI) chairman and Prime Minister designate Imran Khan and invited him for a state visit which the later accepted.
Sources told Dunya News that Prime Minister designate Imran Khan has also invited Saudi King Shah Salman for a statement for which the details would be decided later.
In his telephonic conversation with Imran Khan, the Saudi King felicitates new government and expressed good wishes for the new government.
Shah Salman said that Kindom of Saudi Arabia attaches great importance to its relation with Pakistan.
"People of Pakistan poses great trust on your leadership," he said and added Saudi Arabia wishes for close ties with the new government.
Saudi king while felicitating Imran Khan upon his success in the general elections invited him for a visit to Saudi Arabia which he accepted.
Speaking on the occasion, PM designate Imran Khan thanked the Saudi King and said that KSA is a friend which stood by Pakistan through thick and thin.
Khan further reiterated Pakistan s commitment to the security and protection of the Holy Mosques and also the territorial integrity of the kingdom.