Imran Khan to take oath as PM on August 18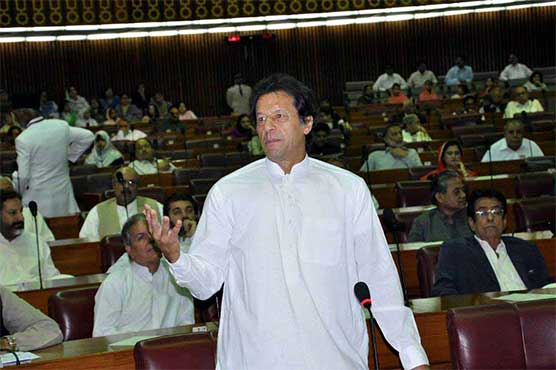 National Assembly session begins Monday.
ISLAMABAD (Dunya News) – Imran Khan will take oath as the 21st prime minister on August 18, his Pakistan Tehreek-e-Insaf (PTI) party confirmed on Friday.
President Mamnoon Hussain has summoned the first session of the National Assembly on August 13. The first sitting of the session will see the newly elected MNAs take oath of their office.
Outgoing Speaker Sardar Ayaz Sadiq will administer oath to the newly elected members. This will be followed by the elections of speaker, deputy speaker and leader of the house.
---
Special arrangements
---
The National Assembly Secretariat has made special arrangements for the preliminary session of the 15th National Assembly starting on Monday.
According to a press release issued by National Assembly Secretariat on Friday, a control room and facilitation Ccentre has been set up in parliament to assist and facilitate the newly elected lawmakers.
It said the control room will remain open round the clock, while the facilitation centre will remain open from 9am to 9pm.
Facilitation centre will provide services for collection of bio-data of MNA elect, issuance of folders, preparation of photographs, collection of addresses and preparation of identity cards of newly elected lawmakers.
---
Sindh and KP assembly sessions on August 13
---
Acting Sindh Governor Agha Siraj Durrani has summoned the first session of Sindh Assembly on August 13 at 10am.
During the session, the newly elected members of the provincial assembly will take oath of their offices.
The house will also elect speaker and deputy speakers during the session.
Similarly, first session of Khyber Pakhtunkhwa Assembly will also take place the same day where as many as 113 lawmakers will take oath.
---
PTI leads in final election results
---
Imran Khan's PTI party did better than expected to scoop up 16.86 million votes, trouncing the PML-N party of jailed former premier Nawaz Sharif, which finished second with 12.89 million, according to final results released by the Election Commission of Pakistan.
The PTI won 116 of the 272 National Assembly seats and emerged as the largest political party in the country. The PML-N grabbed 64 seats, while the PPP came in third place with 43 National Assembly seats.
Similarly, Mutahida Majlis Amal (MMA) secured 12 seats and Pakistan Muslim League (Q), Balochistan Natioanl Party, Mutahida Qaumi Movement Pakistan, and Balochistan Awami Party secured four, three, six, and four seat respectively.
Awami National Party (ANP) won one seat, Awami Muslim League (AML), Pakistan Tehreek-e-Insaniyat and Jamhoori Wattan Party (JWP) also grabbed one NA seat each.
---
Resolution against alleged rigging
---
The grand opposition alliance Thursday decided to move resolution in parliament against alleged rigging in elections.
Protest rallies were carried out on the second consecutive day in Lahore, Karachi, Peshawar and Quetta in which the protesters demanded Chief Election Commissioner (CEC) Sardar Raza to step down from his post.
In Karachi, Jamiat Ulema-e-Islam-Fazl (JUI-F) and Awami National Party (ANP) staged a sit-in outside Election Commission office.
A protest was also organised in front of the ECP office in Peshawar, while a rally was organised by the grand opposition alliance from Railway Station to ECP office in Quetta.
It is pertinent here to mention that PPP leader and former leader of opposition in Natoinal Assembly, Syed Khursheed Shah hinted at forming a parliamentary commission over the alleged rigging in July 25 general elections.