People of Punjab have voted for change: Shah Mahmood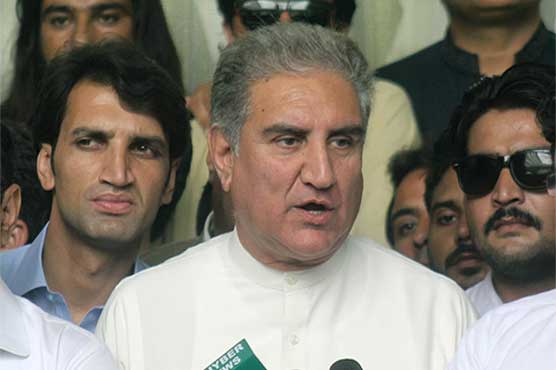 Shah says poor leadership has ruined the country's economy
ISLAMABAD (Dunya News) – Pakistan Tehreek-e-Insaf (PTI) leader Shah Mahmood Qureshi on Wednesday said that the people of Punjab have voted for change in the province in July 25 general elections.
Talking to media in Islamabad on Wednesday, he said that there was a tough competition between three largest political parties including Pakistan Tehreek-e-Insaf, Pakistan Peoples' Party (PPP) and Pakistan Muslim League-Nawaz (PML-N) in Punjab.
The PTI leader said that the voters of Punjab put the PML-N on defending position by the for his party, adding that the province's voters have also rejected the PPP.
Shah went on to say that the poor leadership has ruined the economy and the voters doesn't want traditional politics.
He said: "Country's economy and foreign affairs are facing many challenges, adding that the PTI would implement its manifesto honestly."
On July 30, the PTI had claimed that it had garnered enough members to form governments both in the centre and Punjab.
PTI spkesman Fawad Chaudhry had said that on the Punjab front, the House consisted of 371 members, however, owing to various factors, the provincial assembly was left with 358-60 members, whereas the PTI's strength was 180, including independents and women reserved seats.
On Wednesday July 25, millions of Pakistanis voted to elect a new government and prime minister in a peaceful elections held in free, fair and transparent manner.
Around 800,000 police and military forces were stationed at more than 85,000 polling stations across the country as the voting took place.
The July 25 election was only the second democratic transition of power in Pakistan's 70-year coup-studded history.
The voting for the Pakistan election, which took place between 8:00 am local time (8:30 am IST) and 6:00 pm (6:30 pm IST), saw more than 3,000 candidates contesting for 272 general seats of the National Assembly, while some 8,000 candidates ran for 577 general seats of the four provincial assemblies - Punjab, Sindh, Khyber Pakhtunkhwa, and Balochistan.
Pakistan is a country of approximately 207 million people, out of which the number of registered voters are about 106 million.