PPP nominates Khursheed Shah for NA speaker slot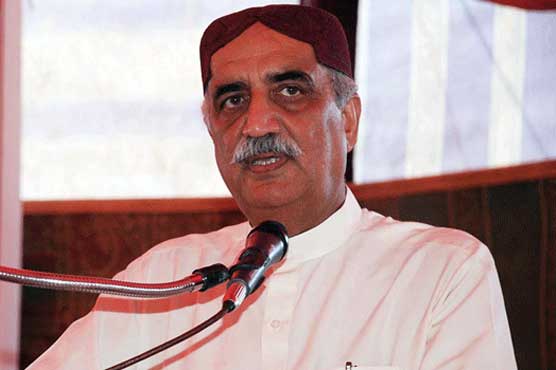 All Parties Conference (APC) had decided that members of all political parties will take oath
LAHORE (Dunya News) – Pakistan Peoples' Party (PPP) on Saturday nominated party leader and former leader of opposition in national assembly Syed Khursheed Shah for the slot of National Assembly Speaker.
Khursheed Shah would be the joint candidate of the grand opposition for the top slot.
PPP leader Mustafa Nawaz Khokhar said that party chairman Bilawal Bhutto approved Khursheed Shah's name.
PPP leader Khursheed Shah was elected Member National Assembly (MNA) for Sukkur and had also served as leader of opposition in national assembly during previous government's tenure.
Earlier, an All Parties Conference (APC) had decided that members of all political parties will take oath.
All political parties had decided to take oath and give the elected puppet government a tough time, PPP leader Sherry Rehman told media after the meeting of the APC.
She said that all parties had reached consensus on various points and the opposition parties have jointly decided that the opposition's joint candidate for PM would be from the PML-N, while the opposition's joint candidate for NA speaker and deputy speaker would be from PPP and MMA respectively.
Rehman went on to say that the joint opposition while rejecting the fake election had decided to stage protest in and outside the parliament. "All opposition parties will play a role of strong opposition," she said.
"A 16-member working committee had also been formed which would formulate TORs," the PPP leader said and added all political parties will issue their white papers.
Previously, a multi-party conference and Pakistan Peoples' Party (PPP) had rejected the just-concluded Pakistan election results, demanding a transparent and free and fair re-election.
The APC called to devise a joint strategy over alleged rigging in the 2018 general elections of Pakistan, demanded a "transparent" re-election and said the polls were "rigged massively" and the results were manipulated.
Attended by leaders of various parties, the APC was chaired by PML-N President Shahbaz Sharif and Muttahida Majlis-e-Amal (MMA) president Maulana Fazlur Rehman. It was held at the Islamabad residence of MMA leader Mian Aslam.
"The APC (all parties conference) had completely rejected the July 25 elections with consensus," announced Rehman while addressing the media after the conference concluded. "We do not consider this election to be the mandate of the public."