Imran directs Jahangir Tareen to meet MQM-P leadership in Karachi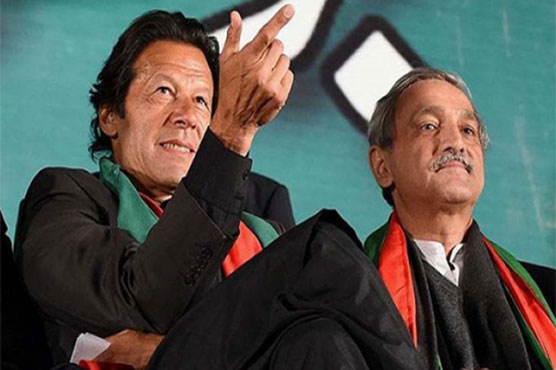 Khan has asked Tareen to immediately fly to Karachi.
ISLAMABAD (Dunya News) – Pakistan Tehreek-i-Insaf (PTI) chief Imran Khan on Monday directed Jahangir Tareen to meet Muttahida Qaumi Movement-Pakistan (MQM-P) leadership in Karachi.
In a telephonic conversation, Khan has asked Tareen to immediately fly to Karachi for seeking support of MQM-P for the formation of federal government.
Also Read: Chaudhry Pervez Elahi to meet Imran Khan in Bani Gala today

The PTI chief has directed to officially invite MQM-P for alliance in the government.
Both the parties have earlier contacted each other via telephone.
---
ECP's final results

---
According to an update issued by the ECP, Imran Khan's Pakistan Tehreek-i-Insaf (PTI) party has won 116 of the 270 National Assembly seats, emerging as the largest political party in the country. The PML-N grabbed 64 seats, while the PPP is in third place with 43 National Assembly seats.
Similarly, Mutahida Majlis Amal (MMA) secured 12 seats and Pakistan Muslim League (Q), Balochistan Natioanl Party, Mutahida Qaumi Movement Pakistan, and Balochistan Awami Party has secured 4, 03, 06, and 04 seat respectively.
Awami National Party (ANP) has won one seat, Awami Muslim League (AML), Pakistan Tehreek-i-Insaniyat and Jamhoori Wattan Party (JWP) have also grabbed one NA seat each.
Fourteen independent candidates have also remained successful in their constituencies. They are likely to play an important role in formation of the federal government.
On the other hand in Punjab Assembly, PTI is leading with 134 seats. Party's central information secretary Fawad Chaudhry has claimed to to gain the required number of seats for formation of government in Punjab in next 12 hours.