Not in the race for Punjab CM slot: Aleem Khan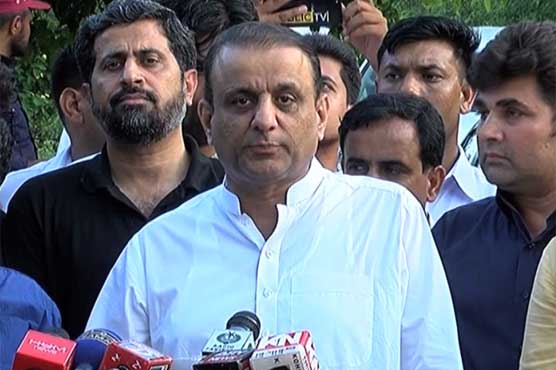 PTI chairman Imran Khan will choose contender for Punjab CM slot
ISLAMABAD (Dunya News) – Pakistan Tehreek-e-Insaf (PTI) leader Abdul Aleem Khan on Saturday said that he is not among those seeking Punjab CM slot.
Talking to media at Bani Gala in Islamabad on Saturday, he said that PTI chairman Imran Khan will select Punjab's CM.
Aleem Khan said that Sharif brothers were leveling false allegations against him and asked the Sharif family to reveal the evidence against him.
The PTI leader said that the several PTI supporters contested general elections as independent candidate as they weren't given party ticket and won the polls.
He said that party chairman Imran Khan has given him task to get all of Punjab's independent members of Provincial Assembly to join PTI.
PARTY POSITIONS IN PUNJAB
In Punjab Assembly, out of received results of over 297 seats, PML-N is taking lead with 129 seats while PTI managed to secure 123 seats so far. Independents have secured 30 seats, Pakistan Muslim League (Q) secured 07, PPP 06, BAP 01, PMLF 01 and PAR won 01 seat.
SEATS REQUIRED TO FORM GOVERNMENT IN PUNJAB AND TOTAL SEATS WON BY VARIOUS PARTIES
According to an update issued by the ECP, Imran Khan's Pakistan Tehreek-i-Insaf (PTI) party has won 116 of the 270 National Assembly seats, emerging as the largest political party in the country. The PML-N grabbed 64 seats, while the PPP is in third place with 43 National Assembly seats.
Similarly, Mutahida Majlis Amal (MMA) secured 12 seats and Pakistan Muslim League (Q), Balochistan Natioanl Party, Mutahida Qaumi Movement Pakistan, and Balochistan Awami Party has secured 4, 03, 06, and 04 seat respectively.
Awami National Party (ANP) has won one seat, Awami Muslim League (AML), Pakistan Tehreek-i-Insaniyat and Jamhoori Wattan Party (JWP) have also grabbed one NA seat each.
Although Khan appeared likely to fall short of the 137 seats needed for a majority in the National Assembly, his better-than-expected results mean he should have no problems forming a government with a handful of small coalition partners.