Last Updated On 08 June,2018 11:13 pm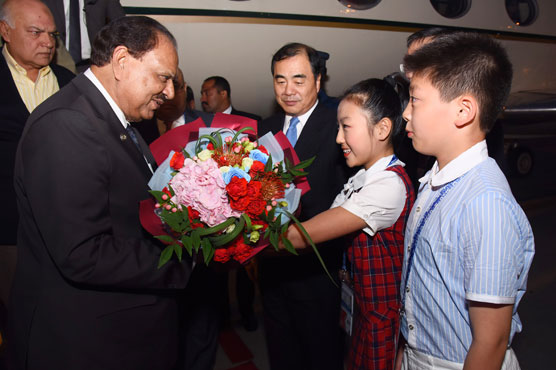 The smartly turned out contingents of Chinese armed forces presented guard of honor to the president
QINGDAO (APP) – President Mamnoon Hussain Friday reached China's coastal city of Shandong province to attend the 18th Meeting of the Council of Heads of States of Shanghai Cooperation Organization.
The president was received by Chinese Vice Foreign Minister Kong Xuanyou and Vice Governor of Shandong Province Ren Airong as he touched down Qingdao Liuting International Airport.
Secretary Foreign Affairs Tehmina Janjua and Ambassador of Pakistan in China Masood Khalid were also present to receive the president.
The smartly turned out contingents of Chinese armed forces presented guard of honor to the president.
Clad in beautiful dresses, two children also presented bouquet to the dignitary who reciprocated the gesture with some gifts.
At the summit, President Mamnoon would join the leaders of another seven full member countries of SCO and would also address the high profile gathering.
The event would also be attended by the leaders from Observer states and representatives of various international organizations.
President Mamnoon is attending the SCO Summit at the invitation of Chinese President Xi Jinping who would chair the meeting.
A heavy agenda awaits the president here, who besides addressing the summit would also hold the bilateral meetings with his counterparts from China, Iran, Uzbekistan and Tajikistan to discuss the bilateral ties and ways to further enhance the cooperation.