Last Updated On 01 June,2018 11:49 pm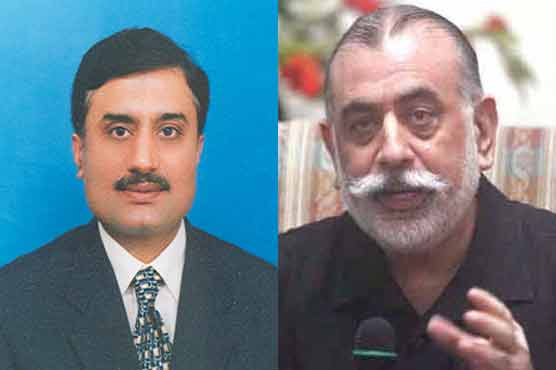 Mahmood-ur-Rasheed had proposed the names of Orya Maqbool Jan and Yaqoob Tahir
LAHORE (Dunya News) – The mystry of Caretaker Chief Minister of Punjab it is likely to be resolved tomorrow after the Punjab government hinted at consensus on two names proposed by the Pakistan Tehreek-e-Insaf (PTI).
According to Dunya News sources, Rana Sanaullah and former Punjab Assembly Speaker Rana Iqbal held a meeting with Leader of Opposition in Punjab Assembly Mahmood-ur-Rasheed on Friday and offered him to finalize one name for the caretaker CM out of two.
Source further said that the Punjab government is ready to reach consensus on one of the name of - Former Inspector General Police (KPK) and current member of Punjab Public Service commission (PPSC) - Nasir Durani and Uaqoob Tahir Izhar, a businessman.
"After the consultation with PTI chairperson Imran Khan, Mian Mahmood-ur-Rasheed would meet CM Punjab Mian Shabaz Sharif," sources added.
Earlier, PTI again taking U-turn on the issue of caretaker Punjab CM, once again replaced the name withdrawn the Orya Maqbool Jan's name and proposed Ayaz Amir's name for the top slot.
PTI spokesman Fawad Chaudhry took to the Twitter to propose the names of Ayaz Amir, Dr Hassan Askari and Yaqoob Tahir, while party leader Mahmood-ur-Rasheed had given the names of Orya Maqbool Jan and Yaqoob Tahir to the media.
Talking to media after holding meeting with Punjab Assembly Speaker Rana Muhammad Iqbal, Mahmood-ur-Rasheed hoped that the matter would go the Parliamentary committee, adding that a meeting will be held with Punjab CM Shehbaz Sharif on Sunday.
He said that he has given the names of Yaqoob Izhar and Orya Maqbool Jan for the top slot and hoped that a consensus would be reached in the next few days.
On the other hand, famous columnist Orya Maqbool Jan said that he has been contacted by the PTI and told that his name was being nominated for the caretaker CM slot.