Last Updated On 02 June,2018 09:41 am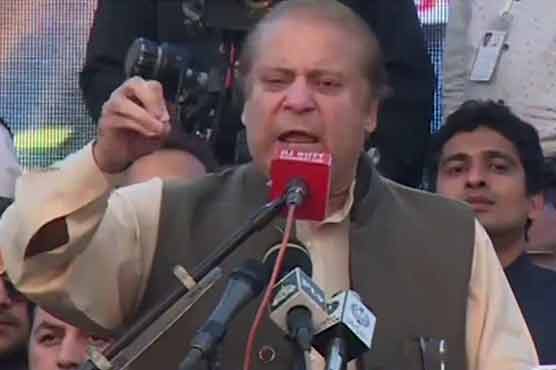 The PML-N supremo says elections should not be delayed even for an hour
FAISALABAD (Dunya News) – Former prime minister and Pakistan Muslim League-Nawaz (PML-N) supremo Nawaz Sharif on Friday said that he is being punished for serving the masses.
Addressing public gathering in Dijkot on Friday, he asked people if the verdict of his disqualification should be taken back or not, adding that who was behind toppling PML-N government in Balochistan.
The PML-N supremo said that the elections should not be delayed even for an hour.
"I appeared before the court for the 80th time today," he said and added he was thinking why he had appear before the court daily. "Show me the corruption of a single penny."
Nawaz Sharif said that he has eradicated over 20-hour long loadshedding and terrorism from the country, adding that he has made Pakistan first Muslim country who tested nuclear weapons.
The ex-PM went on to say that he fulfilled all the promises he made with the people, adding that people were getting jobs but a wrong decision has damaged the country's economy.
People's votes could overturn the verdict against him, he added.