PTI's Dar challenges Khawaja Asif to compete in 'public court'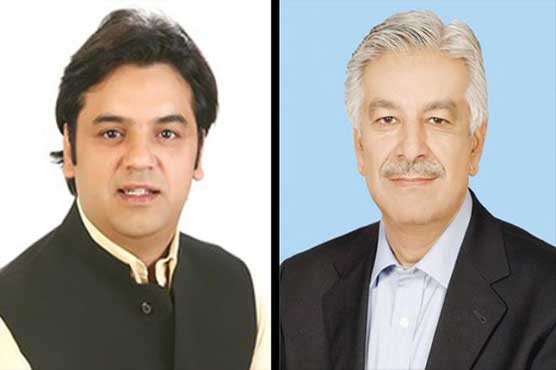 PTI leader said that now ex-prime minister Nawaz Sharif will not criticize the judiciary.
ISLAMABAD (Dunya News) – Pakistan Tehreek-e-Insaf (PTI) leader Usman Dar has challenged former Foreign Minister Khawaja Asif to compete in upcoming General Elections 2018.

Responding to the decision of Supreme Court (SC) to annul Asif's disqualification, PTI leader congratulated him and said that now ex-prime minister Nawaz Sharif will not criticize the judiciary.

Supreme Court on Friday dismissed the disqualification verdict of Islamabad High Court (IHC) against former foreign minister Khawaja Asif and allowed him to contest the upcoming general elections 2018.

PTI member Usman Dar's lawyer argued that Khawaja Asif continued employment in a foreign company despite being a federal minister. "The move is a conflict of interest," he asserted.

"Can disqualification occur due to conflict of interests? There has been a lot of discussion on this topic in the world. Trump's daughter performs duties in government affairs. His son-in-law runs his own business. Should a person be disqualified over conflict of interest or a public official be warned?" asked the judge.

On April 27, IHC disqualified Foreign Minister Khawaja Asif from the parliament under Article 62(1)(f). A three-member bench, headed by Justice Athar Minallah, had reserved verdict on PTI leader Usman Dar's plea on April-10.

The bench disqualified Khawaja Asif in the following words: "We declare that the Respondent was not qualified to contest the General Election of 2013 from NA 110 as he did not fulfill the conditions described under Article 62(1)(f) of the Constitution, read with section 99(1)(f) of the Act of 1976. The petition is, therefore, allowed. The Registrar of this Court is directed to send certified copy of this judgment to the Election Commission for de-notifying the Respondent as Member of the National Assembly of Pakistan. A copy is also directed to be sent to the Speaker of National Assembly of Pakistan for information."