Islamabad High Court disqualifies Foreign Minister Khawaja Asif for life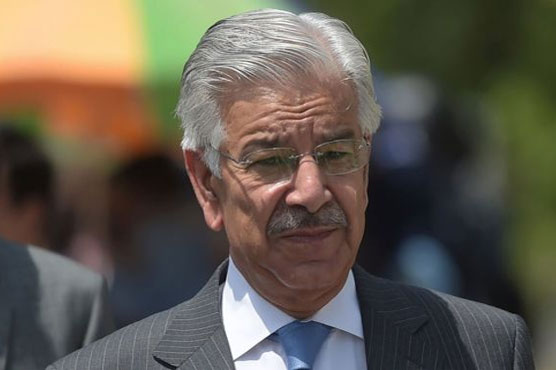 Islamabad High Court disqualifies Foreign Minister Khawaja Asif under Article 62 (1) (f) for life.
ISLAMABAD (Dunya News) - Islamabad High Court has disqualified Foreign Minister Khawaja Asif from the parliament under Article 62 (1) (f).
A three-member bench, headed by Justice Athar Minallah, had reserved verdict on Pakistan Tehreek-i-Insaf (PTI) leader Usman Dar's plea on April-10. As per details garnered, the verdict was announced by Justice Athar Minallah.
The bench disqualified Khawaja Asif in the following words: "We declare that the Respondent was not qualified to contest the General Election of 2013 from NA 110 as he did not fulfill the conditions described under Article 62(1)(f) of the Constitution, read with section 99(1)(f) of the Act of 1976. The petition is, therefore, allowed. The Registrar of this Court is directed to send certified copy of this judgment to the Election Commission for de-notifying the Respondent as Member of the National Assembly of Pakistan. A copy is also directed to be sent to the Speaker of National Assembly of Pakistan for information."
Read here: IHC releases 35-page verdict in Khawaja Asif disqualification case
Earlier, Asif had submitted company's letter and additional documents. The letter states that full-time presence of Khawaja Asif wasn't mandatory under consultation agreement. "Consultation from Kh Asif was either sought through telephone or during his visit to Dubai", read the statement of the letter. The company further stated that its legal member was ready to appear before any court in Pakistan in Kh Asif disqualification case.
It is worth here to mention that Dar had lost elections to Asif in May-2013. The PTI leader moved court against Asif relying on apex court's landmark July-28 judgment pertaining to receivable salary under which the SC had ousted ex-premier Nawaz Sharif.
Dar in his petition had alleged that Asif was entitled to draw a salary which fell under category of receivable asset; however, since he did not declare it in the nomination form while contesting the 2013 general elections from NA-110, he did not qualify to remain a member of the National Assembly.
The 35-page verdict wil be sent to the Election Commission of Pakistan to beging proceedings of disqualification of Khawaja Asif.
Reacting to the verdict, Khawaja Asif has announced that he will challenge the verdict in the Supreme Court of Pakistan.
After the verdict by the Supreme Court ruling that the disqualification period of Nawaz and Tareen is lifetime, the disqualification period of Khawaja Asif is also for life.
Last year, the Supreme Court of Pakistan (SC) has disqualified Prime Minister Nawaz Sharif in connection with Panama Papers case under Article 62 (1) (f) and directed Election Commission of Pakistan (ECP) to issue his disqualification notification.
Read here: SC disqualifies PM Nawaz in Panama Leaks case
The SC also ordered to file reference in National Accountability Bureau in six weeks to investigate matter against Nawaz Sharif and his children. Court also ordered to file reference against Capt (retd) Safdar.
Following the ouster of Nawaz Sharif from the premiership of the country last year, an article of the Constitution of Pakistan has come in the spotlight – Article 62, which deals with the eligibility of a parliamentarian.
Read here: What is Article 62?
According to Article 62, a person shall not be qualified to be elected or chosen as a member of Majlis-e-Shoora (Parliament) unless-
He is a citizen of Pakistan
The person must be of good character and is not commonly known as one who violates Islamic Injunctions
He has adequate knowledge of Islamic teachings and practises obligatory duties prescribed by Islam as well as abstains from major sins
He is sagacious, righteous and non-profligate, honest and truthful, there being no declaration to the contrary by a court of law.