Last Updated On 14 May,2018 03:09 pm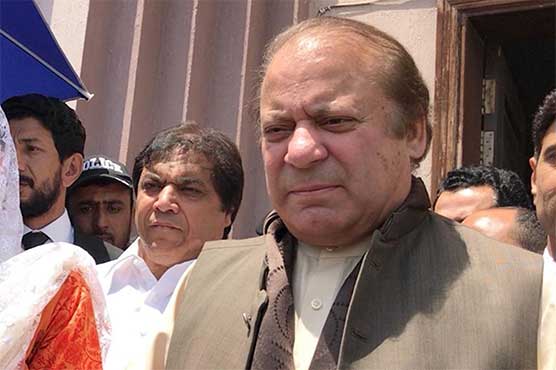 "What is wrong in my statement?" he asked while talking to media outside accountability court.
ISLAMABAD (Dunya News) – Pakistan Muslim League-Nawaz (PML-N) supreme leader Nawaz Sharif said on Monday that his statement regarding the Mumbai attacks has also been given by Musharraf, Mahmood Durrani and Rehman Malik before.
"What is wrong in my statement. I only asked why terrorists killed 150 people. Why Munbai trial was not completed. This should be answered," he asked while talking to media outside accountability court.
"Firstly, it should be told what I said exactly. Examine the Dawn newspaper for this," he said and read out the relevant part from the newspaper to the journalists.
"Now tell what wrong have been said in the statement. We gave sacrifice of more than 50,000 people. The army did the same and our officers were martyred. Even then why the world is not willing to accept our stance," asked the former premier.
"Kulbhushan Jadhav was a spy and I corroborate to the statement," he said.
The PML-N supreme leader asserted that he only speaks the truth no matter what the consequences.
---
Dawn Leaks-2
---
Former Prime Minister Nawaz Sharif had on Saturday revealed in an interview that those who attacked hotel in Mumbai in 2008 hailed from Pakistan.
Speaking to Dawn newspaper, Nawaz Sharif asked if we should allow non-state actors "to cross the border and kill 150 people in Mumbai".
He said: "Militant organisations are active. Call them non-state actors, should we allow them to cross the border and kill 150 people in Mumbai? Explain it to me. Why can't we complete the trial?" — a reference to the Mumbai attacks-related trials which have stalled in a Rawalpindi anti-terrorism court.
Also Read: Nawaz Sharif's remarks in the best interest of country , tweets Maryam Nawaz
Meanwhile, the interview has stirred a storm as Indian media has turned his statement into a charge sheet against Pakistan for being involved in the Mumbai attacks.
On the other hand, a German journalist, Elys Davidson in his book last year revealed that the Mumbai attack was masterminded by Israel and America and the facts were distorted by the Indian government.
According to the book, many witnesses saw Ajmal Kasaab and others gathering in Nariman House two days before the incident, but the Indian investigative agencies never included their statements in the investigation report.
---
NSC meeting
---
Following the statement, the session of National Security Committee (NSC) presided over by Prime Minister (PM) Shahid Khaqan Abbasi was held in Islamabad which categorically rejected and condemned the remarks of former premier.
According to details, Chairman Joint Chiefs of Staff Committee General Zubair Mahmood Hayat, Cheif of Army Staff General Qamar Bajwa, Air Chief Mujahid Anwar Khan, Naval Chief Admiral Zafar Mahmood Abbasi among others are attending the meeting.