Karachiites won't accept MQM founder-like Imran as their leader: Bilawal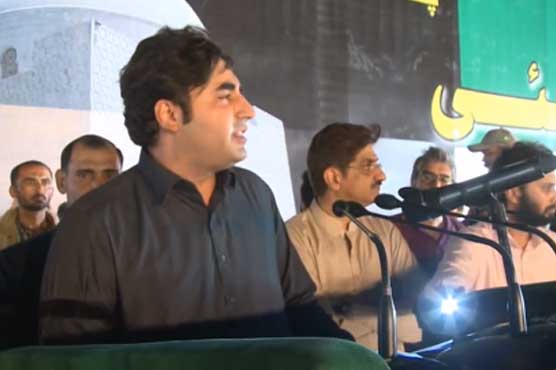 PTI and MQM are two sides of a coin
KARACHI (Dunya News) – Pakistan Peoples' Party (PPP) chairman Bilawal Bhutto Zardar on Saturday said that Pakistan Tehreek-e-Insaf (PTI) and Muttahida Qaumi Movement (MQM) are two sides of a coin.
Addressing public rally in Karachi's Bagh-e-Jinnah, he said that Karachiites would not accept MQM founder-like Imran Khan as their leader.
The PPP chairman while launching a tirade against political opponents said that 14 members of PPP were martyred in May 12 tragedy, adding that his party had announced to hold rally Hakeem Saeed Ground to pay tribute to the martyrs.
Bilawal went on to say that PTI first announced to hold public gathering at Maazar-e-Quaid but later changed the venue and announced to hold rally at Hakeem Saeed Ground. "The guards of PTI leader attacked PPP activists," he said.
Taking a jibe at MQM-Pakistan, the PPP chairman said that all disgruntled leaders of party united after PPP's rally at Tanki Ground, adding that if he knew, he would have held the rally in their stronghold long ago.
He said: "Despite shameful attitude of PTI, I asked my party to find another place for our rally and invited Imran Khan to hold rally at Hakim Saeed Ground because we prefer Karachi's peace and have sacrificed for achieving it but PTI fled and left behind questions as what it wanted, after all."
Criticizing former president General (r) Pervez Musharraf, he said that PPP workers were martyred on Musharraf's orders, adding that the history of Jallianwala Bagh was revised.
"Musharraf's one group of henchmen martyred our innocent PPP workers on May 12, 2007 and 11 years afterwards Musharraf's second group attacked us again. We didn't fear then and now because power of righteousness, power of truth and power of people are with us and shall remain forever."
Bilawal said that the PPP faithful sacrificed their lives for the party's struggle to ensure an independent judiciary. "Our workers went out in support of chief justice Chaudhry Iftikhar, but were attacked by terrorists."
He said that if MQM cares about cleanliness in Karachi then why is not it asking its Union Councils to permit Solid Waste Management Authority to conduct cleanliness in other districts of Karachi.
The PPP chairman further said that from Karachi to Punjab, attempts were made to snatch PPP mandate through slogans like "Jaag Punjabi Jaag", "Jaag Mahajir Jaag" but people got in return only infernos, blood, dead bodies, terror, bullets, blasts, strikes etc.