Last Updated On 02 May,2018 11:27 am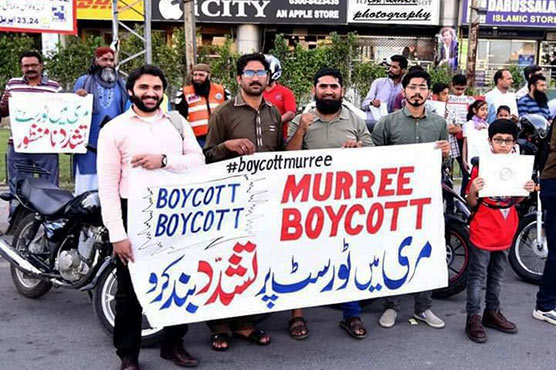 Locals are said to be harassing visitors, including families, on petty issues with some claiming harassment and physical confrontations. Photo: Twitter
(Dunya News) – Murree, a tourist destination and one of the most visited hill stations in Pakistan, is always seen buzzing with tourists especially during the summers. However, following some recent uneventful incidents, many visitors are now avoiding Murree after what is being said to be harassment by local vendors and hotel owners.
Several videos showing violent incidents have made rounds on social media stirring the hashtag #BoycottMurree on Twitter in protest.
---
I live in Murree..and I know how disgusting the people of Murree are, Tourists should boycott this place unless the locals learn how to behave with guests #boycottmurree

— Shah Saab (@Da_Shah_Saab) April 29, 2018
---
How disgusting this behaviour is by people of Murree. Shame on you!#boycottmurree

— Awais Saleem (@AwaisDhareja) May 2, 2018
---
#BoycottMurree and explore other areas of Pakistan. Hospitality counts! Why visit a hill station full of filthy people?

— Isfandiar Khan (@AsfandKhan6) April 28, 2018
---
Locals are said to be harassing visitors, including families, on petty issues with some claiming harassment and physical confrontations. Some of the viral videos have also shown locals engaging in physical fights with tourists.
With the hashtag #BoycottMurree people are now sharing their tales of harassment and hostile encounters in Murree, and are also suggesting alternate touristic spots that are family friendly and safe.
For more on this, watch a report by Dunya News below.
---
---