Last Updated On 28 April,2018 05:34 pm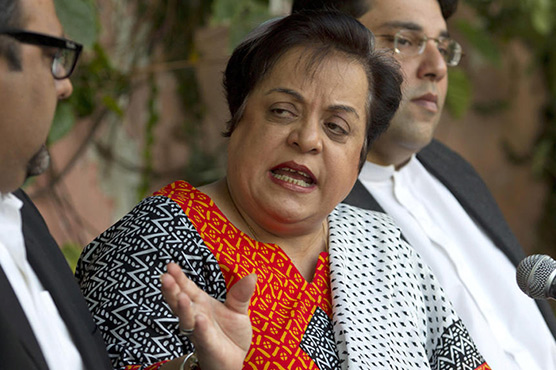 As the newly appointed Finance Minister Miftah presented the budget, the opposition benches rose from their seats in protest. Photo: AP
(Features Desk) - Leaders of the opposition and the government locked horns during the budget session in the National Assembly on Friday as the government announced the annual budget amid chaos. But the heat from Friday boiled over on social media as politicians continued their heated arguments on Twitter.
As the newly appointed Finance Minister Miftah presented the budget, the opposition benches rose from their seats in protest.
As the members of the opposition and the government exchanged harsh words amid sloganeering between the two benches, PTI's Murad Saeed was seen angrily approaching towards the area where Miftah Ismail was presenting the budget.
While opposition members in the assembly were chanting against the newly appointed finance minister Miftah Ismail, Murad Saeed of the PTI was seen ferociously approaching towards Abid Sher Ali of the ruling PML-N, with whom he was seen having a heated argument.
---
Alright, I'm a middle class uncivilised commoner who don't know the norms n respect of the house. But since they r seasoned n "khandani" politicians they have the right to misbehave with women n abuse families of fellow members? Time n again bcz no one confronts them No more.

— Murad Saeed (@MuradSaeedPTI) April 28, 2018
---
The images from the assembly session were reported widely sparking debates over the conduct of politicians on the floor of the House.
Later, PTI's Shireen Mazari took to Twitter and explained, in a series of tweets, the reason behind Saeed s agitation.
According to Mazari, the ruling party members encircled her following which she claimed she was 'almost physically attacked' before Saeed came to aid her.
Mazari in her tweet referred to PML-N members as 'Gullu Butts'.
---
Murad was perfectly correct because PMLN s Abid Sher Aliand a few others encircled me and almost attacked me physically so Murad came to my aid and Abid Sher Ali hurled some filthy abuses at him as well as threatening to hit him! https://t.co/TnBBh5sf2G

— Shireen Mazari (@ShireenMazari1) April 27, 2018
---
And PMLN s Gullu Butt go around attacking and killing innocent ppl. We defend ourselves against these Gullu Butt and their parliamentary offshoots! https://t.co/QsimbpuKig

— Shireen Mazari (@ShireenMazari1) April 27, 2018
---
Pl get facts correct - Abid Sher Ali and his goons encircled me and Murad came to my aid so Abid Sher Ali hurled filthy abuses at him and was ready to strike him! Murad reacted as anyone placed in that situation would! https://t.co/ztgS1zUprK

— Shireen Mazari (@ShireenMazari1) April 27, 2018
---
Later, Ashan Iqbal replied to Mazari that no one attacked her and that she was aggressively speaking on the "mike", to which Mazari later corrected him on the spelling of "mic".
---
No one attacked you rather you were very aggressive and assaulting the mike before the Finance Minister and I had to ask you please behave like an educated lady MNA but you were too busy shouting and attacking. Finally, we had to call our lady MNAs to deal with you. https://t.co/b05d1a9bZe

— Ahsan Iqbal (@betterpakistan) April 27, 2018
---
All u did was to scream rudely at us - and u didn t "ask" me anything! U really like to make things like the alphabetical seating order story (the tweet u had to delete later!)! "Assaulting the Mike"? Seriously! U need to look up "assaulting" https://t.co/cKPOC8SrR9

— Shireen Mazari (@ShireenMazari1) April 27, 2018
---
Oh and just for ur future reference it shd be "assaulting the mic"!! https://t.co/AWinW5wOGv

— Shireen Mazari (@ShireenMazari1) April 27, 2018
---