Last Updated On 27 April,2018 08:47 pm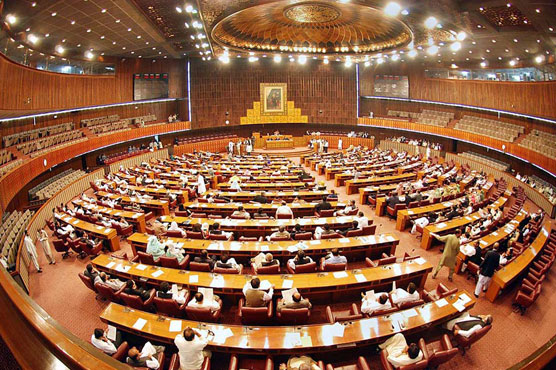 Shah says government deprived next government of its right to present budget
ISLAMABAD (Dunya News) – The joint opposition on Friday staged a walkout from the Lower House of parliament the moment the finance minister, Miftah Ismail, began the budget speech.
Earlier, the Pakistan Tehreek-e-Insaf (PTI) and the Pakistan People's Party (PPP) had decided to create ruckus in the assembly in a bid to stop the government from presenting the budget for the next fiscal year.
Prior to the speech of finance minister, speaking on the floor of the house, Leader of Opposition in National Assembly Syed Khursheed Shah said that they wouldn't have any objection if the ruling Pakistan Muslim League-Nawaz-led (PML-N) government had been presenting budget for three or four months.
He said that ethically the government has no right to present annual budget and the government was depriving the next governemnt of its right.
"It is a historic moment for the country that the second government has completed its tenure," Shah said.
The PPP leader said that it was painfull that Dr Miftah Ismail was made minister hours before the assembly's budget session. Government brought an unelected person to present budget, he added.
Shah further said that the prime minister could have presented this budget or asked State Minister for Finance Rana Muhammad Afzal, who is an elected person of this house to present the budget.
He said that the government is going to complete its tenure and presenting federal budget for the whole year should be left for the next government.
Talking floor, PTI Leader Shah Mehmood Qureshi also voiced that Rana Muhammad Afzal should present the budget.