Last Updated On 21 April,2018 11:34 am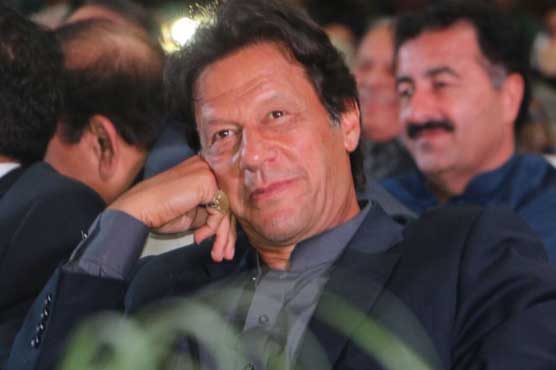 It is easier to build a new institution than to improve an existing.
ISLAMABAD (Web Desk) – Reacting to Chief Justice of Pakistan (CJP) Mian Saqib Nisar's remarks in which he lambasted on the Pakistan Tehreek-e-Insaf (PTI)-led Khyber-Pakhtunkhwa (KP) government for its 'poor governance', Pakistan Tehreek-e-Insaf (PTI) chairman Imran Khan admitted that they should have given more attention and funds to improve basic facilities for the people.
The PTI chairman in his latest tweets said that the PTI-led KP government was taking steps to improve the situation. "I welcome the Justice Saqib Nisar's remarks on the shortcomings, especially the sewerage system which is in need of drastic measures, he added.
April 20, 2018
While giving his opinion on Lady Reading Hospital (LRH), Khan said: "In my opinion, it is easier to build a new institution, as we have built a state-of-the-art Shaukat Khanum Memorial Cancer Hospital (SKMCH) in Peshawar than to improve an existing institution.
He went on to say that why would 30 Pakistani doctors working overseas would have returned to serve in it if LRH had not improved.
April 20, 2018
"I do not have enough words to thank Dr Barki who regularly visit LRH at his own expense to oversee our health reforms," Khan added.
Khan said: "I only have 2 Qs for CJP: Are things better now in KP than they were 5 years ago? and are KP people more satisfied now than 5 yrs ago?"
On Thursday, the CJP told Khyber Pakhtunkhwa Chief Minister Pervez Khattak that he was not satisfied with his government's performance in health and education sector.
— Imran Khan (@ImranKhanPTI) April 20, 2018
A three-member bench, which includes Justice Mansoor Ali Shah and Justice Umar Ata Bandial, was hearing several cases, including those of the province's hospitals, educational institutes, private medical colleges and lack of clean drinking water for the public.
The bench also sought a report on the provision of basic facilities at schools, fee structure at private medical colleges and production of electricity and load-shedding in the province.