Anti-judiciary speeches case: SC issues notices to Nawaz Sharif, Maryam Nawaz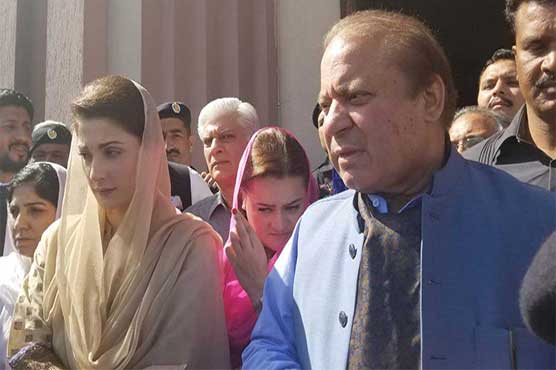 Proper hearing of the case will be conducted at 1pm.
ISLAMABAD (Dunya News) – Supreme Court (SC) on Tuesday has issued notices to former Prime Minister Nawaz Sharif and his daughter Maryam Nawaz in anti-judiciary speeches case after representative from Pakistan Electronic Media Regulatory Authority (PEMRA) was summoned.
Taking suo moto notice of Lahore High Court's (LHC) decision to ban airing of anti-judiciary speeches for 15 days, Chief Justice of Pakistan (CJP) Mian Saqib Nisar has sought record of the case.
CJP has asked Attorney General to read out the decision of LHC. He also directed Nawaz Sharif and Maryam Nawaz to appear in the court and said that if they cannot come then they should send their lawyers for arguments.

However, proper hearing of the case will be conducted at 1pm.
On Monday, a three-member bench headed by Justice Muzahir Akbar Naqvi conducted hearing during which, Pakistan Electronic Media Regulatory Authority (PEMRA) was directed to decide over petitions regarding on-airing the anti-judiciary speeches within 15 days.
Plaintiff's lawyer Azhar Siddiq Advocate argued that the anti-judiciary speeches of Nawaz Sharif, his daughter Maryam Nawaz are being on-aired on television channels which comes under contempt of court.
After the decision of Panama Leaks case, Sharif family and PML-N leaders are openly criticizing the judiciary, he added.
PEMRA's counsel told that the authority gave a verdict but the judge said that the petition was later dismissed by PEMRA on technical grounds. This gave impression that permission was given for broadcasting anti-judiciary speeches, he stated.
Nawaz Sharif's lawyer said that PEMRA is bound to follow its code of conduct and that Supreme Court (SC) had not taken any notice of this issue.

Earlier, Supreme Court (SC) had disposed of contempt of court petitions against Nawaz Sharif, Chief Minister of Punjab (CM) Shehbaz Sharif and Captain (r) Safdar.
CJP said that former PM used inappropriate words against JIT, not the court. We have record of anti-judiciary speeches of Sharif family which will be unveiled on a suitable time.