Last Updated On 07 April,2018 04:07 pm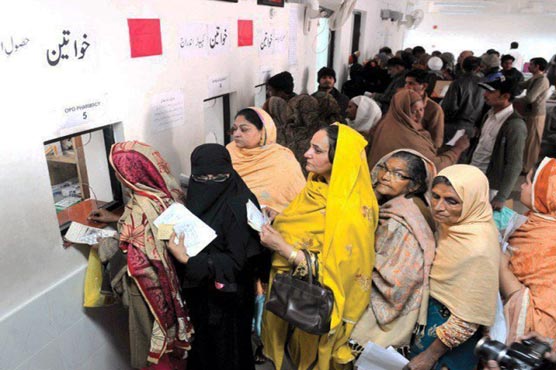 Hospitals in Punjab are ill-equipped and under-resourced to ensure appropriate medical treatment of patients. Photo: AFP
(Dunya News) – In Punjab, the country's largest province, there is one doctor for every 1000 or so patients while Rs. 23 are allocated in health budget for every individual, according to a study.
While April 7 is marked as World Health Day, hospitals in Punjab are ill-equipped and under-resourced to ensure appropriate medical treatment of patients.
From lack of beds in hospitals to long queues of patients, hospitals in Punjab are faced with a multitude of problems.
The quality of hospitals in Pakistan can be gauged by the fact that the best hospital in Pakistan is ranked 5911 on the global scale.
The ratio of hospitals according to the population is insufficient. Patients who come in for treatment in the OPDs complain of lack of doctors claiming that their turn for checkup comes after several hours, and at times, even after a day.
World Health Day is celebrated to commit towards the provision of basic health facilities. In order to ensure this, it is vital that other than improving on current hospital infrastructure in Pakistan in line with global standards, new hospitals be set up so that quality and timely treatment is provided to the people.
For more on this, watch a report by Dunya News below.
---
---