The 9-year-old 'Mountain Princess' who scaled Hunza's 5,000-metre peak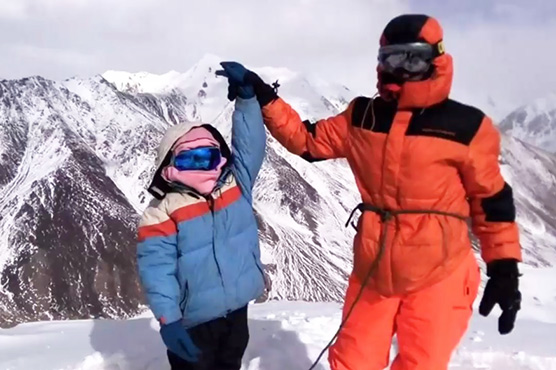 First time in the history of Pakistan, a 9-year-old girl has climbed more than five thousand metres high peak and aims to summit more mountains. Photo: Gulf News
(Web Desk) – Selena Khawaja has become Pakistan's youngest climber to have summited 5,765 metre-high Quz Sar Peak in Shimshal Valley located in the north of Pakistan.

She successfully completed her climb on Feburary 21, 2018, reported Gulf News. This is the first time in the history of Pakistan that a 9-year-old girl has climbed more than 5 thousand metres and aims to summit more mountains.
Hailing from the city of Abbottabad, she has a special love for mountains. Now the young mountaineer says he has more goals to achieve and hopes to start her new venture by climbing three peaks: Mingling Sar (6,050 metres), followed by Spantik Peak (7,927 metres) which ranks as the 12th highest mountain in the world.
"I aim to climb all these peaks this year," she says.
---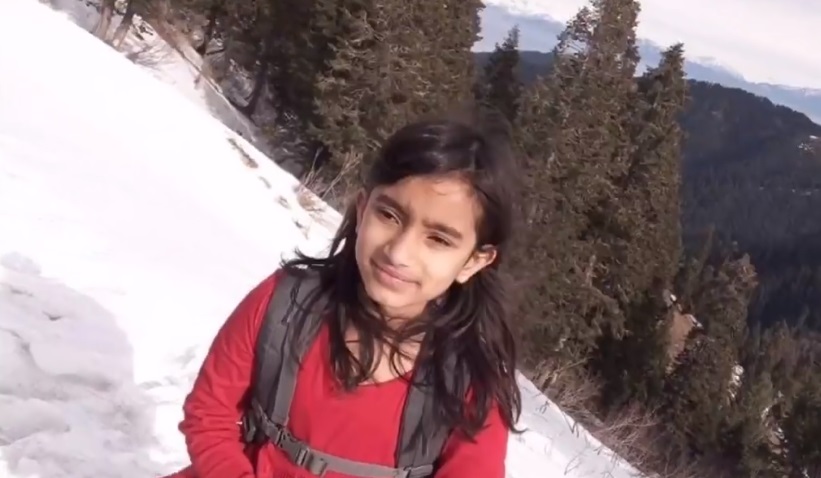 The young mountaineer says he has more goals to achieve and hopes to start her new venture by climbing three more peaks. Photo: Gulf News

---
In 2019, the young mountaineer plans to summit the 8,848-metre high Mount Everest. "I will aim for the world's tallest mountain in 2019 to become the youngest girl to reach the top of Mount Everest," Selena says.
Selena is currently studying in grade 5 at Talking Heads International School and loves outdoor activities. With the support of her parents and teachers, Selena started her physical training at the age of 8 in the mountains of Miranjani which is at 2,992 metres high in elevation, in Abbottabad District and Makra's peak which is 3,800 metres high in Hazarz Region of the Himalayas.
"I have scaled Miranjani at least 45 times and it is nearly 3,000 metres high." "And summited the 3,800-metre Makra Peak around 3 times."
Selena accomplished her latest triumph with the help of her father Yousaf Khawaja, who accompanied her on the expedition along with guide Wazir Baig, porter Asif Baig and other team members. Their expedition took more than 10 days, out of which seven were completely dedicated to the hike.
"At 5,000 metres, I felt slight altitude sickness but my training and the support of my father helped me overcome it soon," she says while sharing experiences from the Quz Sar summit.
The father-daughter duo draws inspiration from Pakistan's sports legend and political leader Imran Khan.
---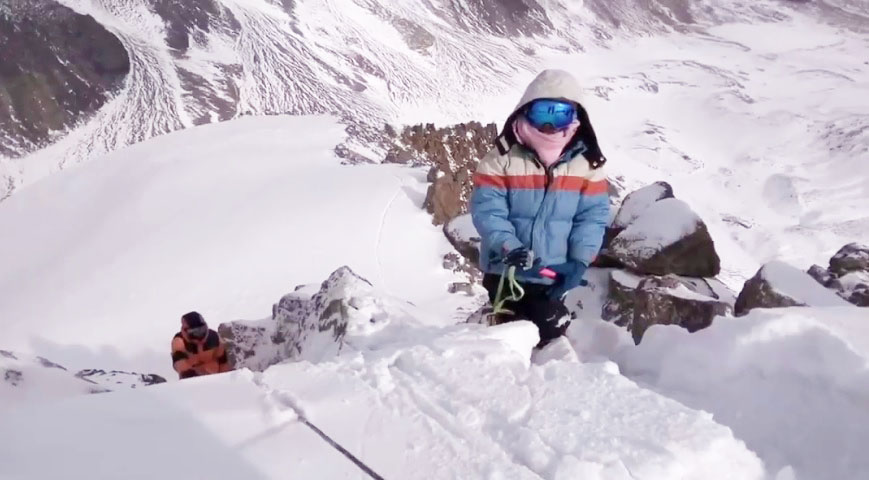 Selena submitted her successful venture with her father and other team members. Photo: Gulf News

---
"Aim so high that your goal seems impossible, then work hard and achieve your goal - these words of Imran Khan motivate me and Selena to aim for Mount Everest," says her father.
"Mount Everest was an impossible dream for an 8-year-old kid, but now we are on our way to achieve the goal within two years and will attempt it in 2019."
Next year, Selena will turn 10 when she'll summit Mount Everest to claim the title for the world's youngest Everest climber.
Before Selena, a 13-year-old Indian girl Malavath Poorna ascended Everest peak in 2010.
Pakistan's mountaineering community has warmly welcomed the feat and named her the 'Mountain Princess'.
Some people have raised concerns about the safety of kids during such climbs. However, Selena's father, a fitness trainer, believes he has trained his daughter physically and takes special care of her diet, which is rich in vitamins and minerals.
"At the age 9, she is way more fit than a casual 20-year-old," he claims.
With her summits, Selena wishes to inspire young kids. "Aim high, work hard and achieve your goals."