Last Updated On 31 January,2018 10:22 pm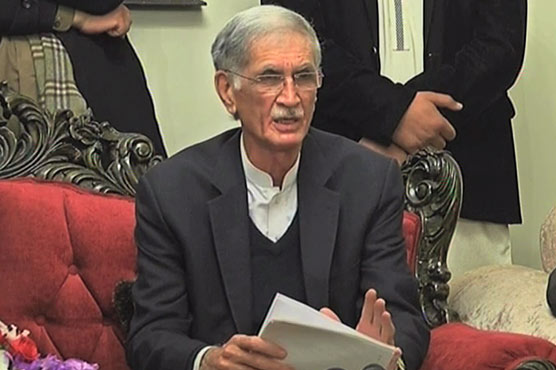 The KP Chief Minister said that police performance reduced terrorism in the province
(Web Desk) – Defending the police in Khyber Pakhtunkhwa (KP), Pervez Khattak said only one or two incidents are being used to criticise the department, agreeing with PTI Chairman Imran Khan that it is a planned campaign against them.
"If one or two cases are not solved then that doesn't mean there is political pressure, but that the case is blind," he cleared.
The chief minister of KP was speaking to a ceremony in Peshawar where his government signed oil refinery deal with Russian company. He said there was terrorism in the province back in 2013.
"Our police ensured peace through numerous sacrifices," he pointed out, stating that police reforms during their tenure have proved significant for the betterment. Khattak reminded that the PTI-coalition government introduced reforms in 2002 Police Act which remain absent in other provinces.
He reaffirmed that the police in KP is de-politicised and without any pressure. Khattak claimed that the crime rate after the KP police reforms, adding that he has the right to constitute committee to check the police performance.
Khattak called the KP police "better than Punjab police". He added, "There was no intelligence agency before us and we introduced the system of intelligence sharing."