PM meets Shehbaz, Nawaz in Jati Umra to discuss FATA reforms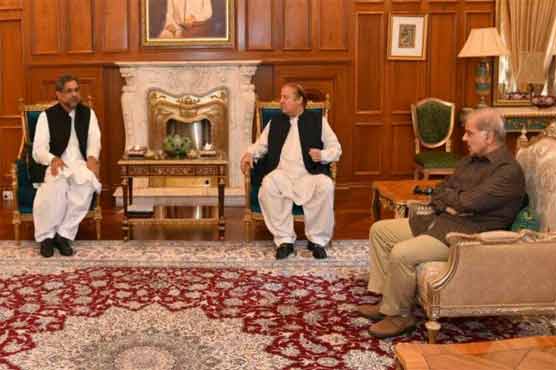 The premier also discussed future strategy and preparations for 2018 general elections
LAHORE (Dunya News) – Prime Minister Shahid Khaqan Abbasi on Thursday met with the Sharif brothers and discussed FATA reforms as well as the future strategy of the ruling PML-N for the 2018 general elections.
He travelled from Islamabad to Lahore in a helicopter to attend high-level meeting with the ex-PM Nawaz Sharif and Punjab CM Shehbaz Sharif. The federal ministers including Anusha Rahman, Khurram Dastgir, Marriyum Aurangzeb, and Rana Tanvir were alongside the premier.
The meeting was chaired by the ruling PML-N head Nawaz Sharif and contained senior leadership of the party.
All the members in the meeting converged on the agenda of FATA reforms. It was decided to address the concerns of coalition partners including Maulana Fazlur Rehman and other parliamentary leaders.
The sacked premier Nawaz Sharif advised all to strengthen the parliament as it is linked to the strength of all other democratic institutions. He directed to the party workers to launch public campaigns for the 2018 general elections.
He vowed to offer sacrifices to ensure the supremacy of democracy. "The nation will not accept targeted accountability," he remarked.
PM Abbasi told that PML-N will fight the 2018 general elections as united and under the leadership of Nawaz Sharif.