Last Updated On 14 December,2017 01:29 pm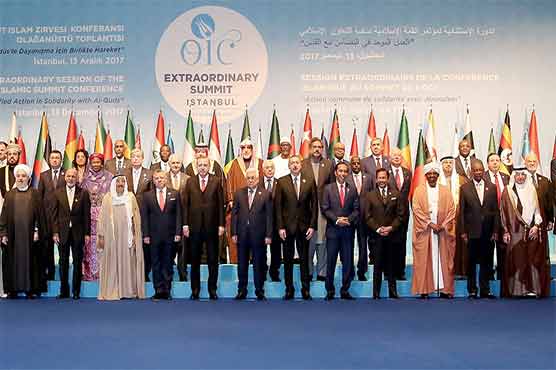 The declaration said US move to shift its embassy in Jerusalem is violation of UN Security Council
ISTANBUL (Dunya News) – Organisation of Islamic Cooperation (OIC) on Wednesday recognized East Jerusalem as the capital of Palestine after the controversial move of the United States to move its embassy in Jerusalem and declare it Israel's capital.
The declaration also called on the world to recognize East Jerusalem as the occupied capital of Palestinian state, condemning the U.S. administration s "unlawful" decision on the status of Jerusalem. The eighth point of the final communiqué declares "East Jerusalem as the capital of the State of Palestine and invite all countries to recognize the State of Palestine and East Jerusalem as its occupied capital".
Representatives of the 57 Muslim-majority states, including Pakistani Prime Minister Shahid Khaqan Abbasi attended the OIC summit in the Turkish capital to denounce the US move.
Turkish President Recep Tayyip Erdogan hosted the OIC summit and called on Muslim world to recognize Al Quds (Jerusalem) as Palestine capital. He branded Israel as an occupying and terrorist state, saying, "Only Israel, which occupies Jerusalem, supported the U.S. unlawful decision. We thank all the countries who did not accept this illegitimate decision."
Palestinian President Mahmoud Abbas said that the US is no longer fit to broker an Israeli-Palestinian peace deal and should be replaced as mediator by the United Nations (UN). He gave an emotional speech at the OIC summit, saying that his people would no longer accept the US as a peace broker. "We will remain committed to international resolutions which have formed the basis of the process," he added.
The US President Donald Trump had recognized the disputed city of Jerusalem as Israel's capital, prompting an almost universal diplomatic backlash and fears of new bloodshed in the Middle East. Trump's defiant move, making good on a core campaign pledge, ended seven decades of US ambiguity on the status of the Holy City, which is vociferously claimed by both Israelis and Palestinians.
---
READ FULL TEXT OF OIC SUMMIT FINAL COMMUNIQUE:
---