Last Updated On 03 November,2017 08:44 pm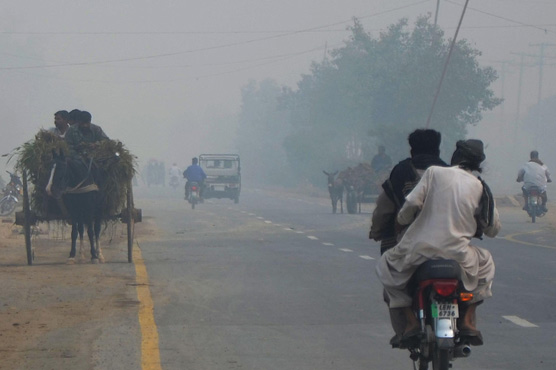 Zakia Shah said the neighbouring state burnt 35 million tons of waste which caused air pollution
LAHORE (Dunya News) – Punjab Environment Minister Begum Zakia Shah said on Saturday that the arch-rival India is responsible for the smog across the border in Pakistan's Punjab.
Talking to media today, she reasoned that the neighbouring state burnt 35 million tons of waste which caused air pollution. She believes that the polluted air was carried to the Pakistani side by eastern winds and such climatic conditions occurred which made the smog static in Punjab.
---
VIDEO: Punjab Environment Protection Minister holds India responsible for smog
---
She put the blame on traffic and industries for polluting the air. Environment Secretary Saif Anjum – who was also present at today's press conference – told that the authorities fined 15,718 vehicles that were spreading pollution. He added that they have arrested 65 people and sealed 157 factories.
Met Office DG Muhammad Rizwan forecasted that the most regions will stay under the dense smog for the next 10 days. He told that the density of smog is lower than that of last year which shows signs of improvement in the environment.
The only way to end smog is rain and there are no indications of it at this moment, he concluded.