Last Updated On 27 October,2017 12:21 pm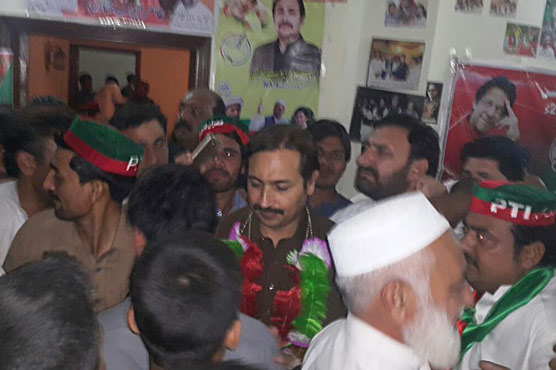 His votes surpassed the number two with a lead of around 20,000 votes
PESHAWAR (Dunya News) – PTI leader Arbab Amir won the NA-4 by-election by a lead of around 20,000 votes to his name, according to unofficial results until now. The polling procedure took place at 8 in the morning under high security arrangements with police and Pakistan Army soldiers deployed at the booths.
Imran Khan, PTI Chairman, congratulated Arbab Amir on his victory by taking to Twitter. "Congratulations to PTI s victorious Arbab Amir in NA 4 and to the PTI Peshawar team. This was a victory against combined opposition forces," he said.
He added that his party s success is a direct vote of confidence on performance of PTI government in Khyber Pakhtunkhwa. "(PTI didn t) doll out development funds like PML-N during NA-120 by-poll," he claimed.
Congratulations to PTI s victorious Arbab Amir in NA 4 and to the PTI Peshawar team. This was a victory against combined opposition forces

— Imran Khan (@ImranKhanPTI) October 26, 2017
---
Live updates from NA-4 by-elections
---
| | | | |
| --- | --- | --- | --- |
| Party | Flag | Candidate | No of votes |
| PTI | | Arbab Amir | 43812 |
| PML-N | | Nasir Musa Zai | 23428 |
| ANP | | Khush Dil Khan | 23256 |
| PPP | | Asad Gulzar | 12343 |
| JI | | Wasil Farooq | 5041 |
---
LIVE:

Unofficial results NA4 Peshawar from 258/269 polling stations:

The unofficial results from 258 polling stations have found PTI's Arbab Amir ahead with 43,812 votes. ANP's Khush Dil Khan has been replaced by PML-N leader Nasir Musa Zai for the second position. Both PML-N and ANP went head-to-head for the second position after the clear margin attained by PTI. PPP has secured fourth position under unofficial results for NA-4 by-election.

An independent candidate named Shafiq Amini took 6,875 and stood at the fifth spot by displacing JI. Sixth position was secured by JI with 5,041 votes. Another independent candidate Alhaj Liaqat Ali came seventh with 2,418.

It is worth mentioning that PML-N leader Kulsoom Nawaz had won NA-120 by-poll and took 61,745 votes.
---
After PTI got a large lead in view of the existing results, the party workers started celebrating the victory by aerial firing. The celebratory gunfire claimed the life of one resident. The boy was identified as Hayatullah.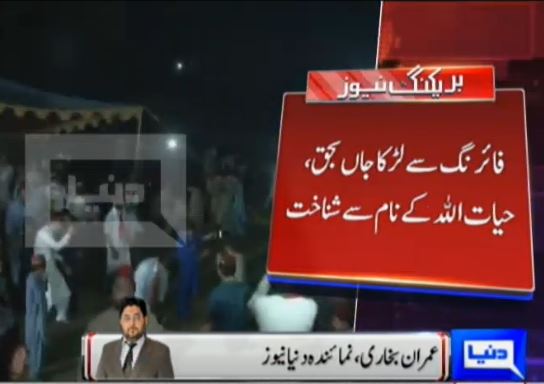 ---
Talking about the election, senior analyst Majibur Rehman Shami compared the votes attained by PTI and PML-N in this by-election and 2013 GE. He told that PTI got 40pc votes and PML-N received almost 14pc votes in 2013 while the figures are 37pc votes to PTI and that of 20pc to PML-N till now.
---
---
All major political parties including PML-N, PPP, PTI, ANP and others are competing in the by-poll and have flexed their muscle to clinch the constituency before the 2018 general elections. Voting begin in the morning at 8am and ended in the evening at 5pm.
Electronic voting machines were used in as many as 35 polling stations. It is the first time that the technology has been used. A large number of women within the Peshawar constituency have also cast votes in favour of their desired leaders.
---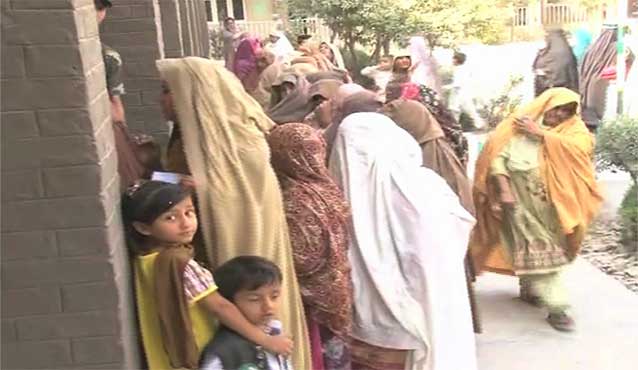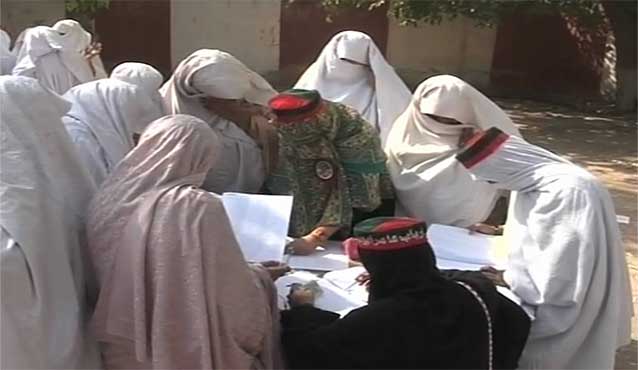 Women participation in NA-4 by-poll
---
All major and minor political parties tried their best to attract voters and urged them to show support at the polling stations. It was interesting to see that the old and disabled also opted to use their right to vote.
A tight contest is expected in the by-election in the constituency. PTI has fielded Arbab Amir Ayub while Nasir Khan is PML-N candidate. Pakistan People's Party's Asad Gulzar and Awami National Party's Khush Dil Khan are also in the run.
Both the workers from PML-N and PTI came head to head in numerous occasions and chanted slogans in support of their party leaders. A few incidents of physical confrontation occurred. Party workers assaulted on another in Gulshan Rehman Colony. PPP MPA Nighat Orakzai entered the polling station holding AK-47 and shocked everyone around.
---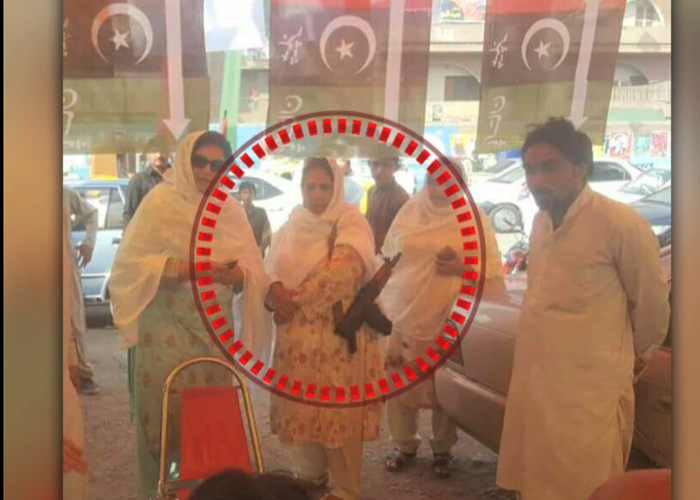 PPP MPA Nighat Orakzai holding a gun during her appearance at the polling station
---
To counter such incidents, a high-level security plan was devised for the by-poll. ECP had called in Pakistan Army soldiers to strengthen the security within and outside the polling booths. CCTV cameras had also been installed at various stations.
ECP had setup a total of 269 booths in which 88 were declared sensitive whereas 181 as highly sensitive. The area has been divided into seven zones where more than 7000 police and FC personnel have been deployed. Pakistan Army will also monitor the procedure while being on duty inside and outside the polling stations.
Khyber Pakhtunkhwa IG Salehuddin Mehsood visited several polling booths in the city and overviewed operations. Talking to media, he told that ten suspects were taken into custody from within the constituency. On the other hand, Zangli area residents in UC-56 boycotted the NA-4 poll saying there is no electricity, water or gas for their homes. They expressed their disassociation with the by-election while calling all politicians unfaithful.
The seat fell vacant after the death of Pakistan Tehreek-e-Insaf (PTI) leader Gulzar Khan who had won this seat in 2013 general election by securing 55,134 votes. Pakistan Muslim League-Nawaz (PML-N) candidate had secured 20,412 votes and remained second.
According to details, there are 352,445 registered voters in the constituency out of which 207,943 are male and 144,502 are female voters. Under ECP guidelines, media outlets remained restricted to announce the result after 6pm.