Last Updated On 17 October,2017 11:49 pm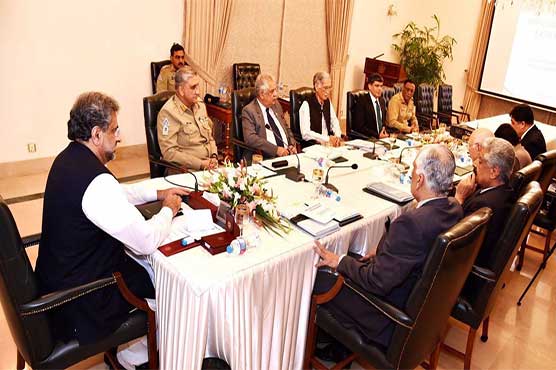 The FATA reforms implementation committee also decided to determine part of FATA in NFC award
ISLAMABAD (Dunya News) – Prime Minister Shahid Khaqan Abbasi chaired a meeting of National Implementation Committee on FATA reforms on Tuesday and discussed to establish high court and Supreme Court bench in the region, adding to allocate share of National Finance Commission (NFC) Award.
The implementation of FATA reforms was overviewed and it was briefed that the bill to establish high court in FATA had already been presented in National Assembly. The committee is working for the completion of ten programmes in FATA related to social and economic development. Also, the procedure of return of people who left FATA is also underway.
The committee asked to direct Law Minister Zahid Hamid to speed up process to approve the bill. They ordered to make arrangements to take legal and administrative steps for court proceedings.
The Committee also directed that all administrative actions to set up agency courts and to expand the capacity of various law enforcement agencies in FATA should be taken expeditiously in consultation with the superior judiciary.
The Committee noted that a high level Committee has already been set up to prepare a 10 year plan for the socio-economic development of FATA. In this context, it directed the Finance Minister to seek, as a matter of priority, the endorsement of the National Finance Commission to the proposal to allocate a share from the divisible pool for FATA for the next 10 years.
Taking note of different viewpoints on FATA Reforms, the Committee carried out an in-depth review of the issues raised and concluded that there was widespread support for the merger of FATA with KP. However, many legal and administrative action will be required before this important reform can be given practical shape. The task of repatriation of TDPs and their rehabilitation have been completed; the required administrative, law enforcement and security personnel are being deployed. Legal reforms have also been initiated. The Committee will continue to review progress of these actions at its future meetings.
The Committee observed that FATA Reforms involve four different dimensions i.e. political mainstreaming, legal mainstreaming, economic mainstreaming and security mainstreaming. These were interdependent and therefore have to be carefully planned and dovetailed. Each has its own administrative and financial implications, the committee was briefed.
The meeting was attended by committee members, i.e. Chief of Army Staff (COAS) General Qamar Javed Bajwa, Minister for SAFRON Lt. Gen (R) Abdul Qadir Baloch, Federal Minister for Law Mr. Zahid Hamid, Deputy Chairman of Planning Commission Sartaj Aziz, Khyber Pakhtunkhwa Governor Iqbal Zafar Jhagra, KP Chief Minister Mr. Pervez Khattak and other senior civil as well as military officials.
... inputs from PID