Last Updated On 11 October,2017 12:23 pm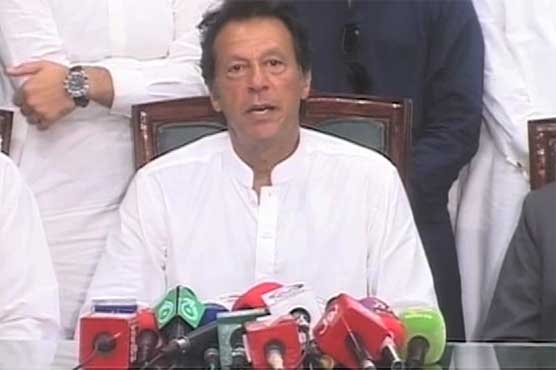 PTI chief said both parties, PML-N and PPP, want to rescue corrupt people through NAB
DERA ISMAIL KHAN (Dunya News) – Pakistan Tehreek-e-Insaf (PTI) Chairman Imran Khan expressed reservations on appointment of new chairman of the National Accountability Bureau (NAB), saying his party was not consulted in the process.
Name of Justice (r) Javed Iqbal's has been finalised for the post of NAB chairman. He is expected to hold the office after existing NAB chairman Qamar Zaman Chaudhry retires on October 10, after completing his tenure of 4 years.
He said, "We have suspicions about appointment of NAB chairman. Both parties (PML-N) and (PPP) want to save corrupt people."
Addressing to a press conference in DIK after attending convocation of Gomal University on Tuesday, Imran Khan said succession in democratic rule is not based upon nepotism or family relations but a system of merit is enforced which is opposite to the arrival of Maryam Nawaz, daughter of ex-PM Nawaz Sharif. He reinforced the claims of corrupt practices carried out by ruling family and told that their trust deeds as well as letters from Qatari prince are fake documents.
He discouraged a 'VIP accountability' of Sharif family and warned to protest if such happens, adding that all government ministers are busy trying to save sacked premier. "Maulana Fazlur Rehman calls me part of Jewish conspiracy while Foreign Minister Khawaja Asif in the US said Imran Khan is more religious," PTI chief highlighted.
Imran Khan also discussed the unavailability of sewerage system in Pakistan and gave examples of KP local body system where a lot of improvement has been brought about. He vowed to fight dengue in the PTI-led province and stressed that they have devised plan to stop the spread of the disease unlike Punjab government.
He also emphasized the importance of selecting unbiased officers for NAB and ECP. PTI chief lauded efforts of KP government in improving the situation of health, education and governance in their province. "People of Karachi and Lahore also desire for police reforms like in Khyber Pakhtunkhwa," he claimed.
Earlier, while addressing students, he professed that the rulers have laundered billions of rupees abroad and alleged Sharif family of owning 29 big houses in London, adding that the one who used to sale cinema tickets in black now possesses 1 lac acre land and 19 sugar mills.