Last Updated On 09 October,2017 10:30 pm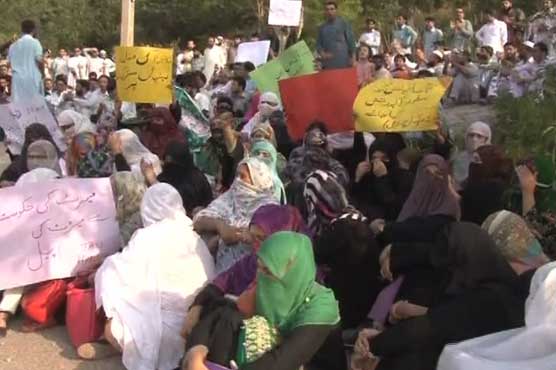 Unhappy PTI workers from Balochistan and KP-based teachers even stopped leaders from entering house
ISLAMABAD (Dunya News) – Unhappy workers of Pakistan Tehreek-e-Insaf (PTI) from Balochistan along with teachers from Khyber Pakhtunkhwa (KP) staged a protest outside Imran Khan's Bani Gala residence on Monday to acquire the attention and show discontent.
The demonstrators stopped mainstream PTI leaders from entering inside the residence by blocking their path. Even KP CM Pervez Khattak was not allowed to go inside his party chairman's house.
PTI workers from Balochistan demanded PTI chief to divide the province in different ranges while KP teachers showed their discontent with the provincial government. The teachers held a strike and asked the authorities to give them permanent jobs.
The protest, which started outside the Bani Gala house, covered a large area. Protestors blocked the route to Imran Khan's residence after no PTI leader came ahead for negotiations.
The locals faced severe bane due to the protest as their routine life got disturbed. When PTI leaders Shireen Mazari and Munaza Hassan were stopped by the demonstration, they came ahead to hold negotiations and requested them to let her go inside the residence.
PTI leaders including KP CM Khattak and others had arrived to meet Imran Khan at his Islamabad residence and attend the high-level meeting for consultation.
---
Imran Khan helds talks
---
Later on the demonstration of KP teachers was dispersed after Imran Khan invited their leader inside his residence and assured the protestors that he will try to fulfill their demands. He told that he will hold talks with provincial government ask them to decide in their favour.
The KP teachers ended protest after taking the word of the party chairman. They were assured that their fair demands will be considered and it ended their protest in a peaceful manner.
However, Balochistan-based workers of PTI are till outside Bani Gala for the past three days. They have announced to not move until their demands are fulfilled. The demonstrators have asked the party to divide the party into three or four regions like in other provinces.
They have gathered in green area after moving away from the road. At night, they stay at nearby hotels and arrive back in the morning.