Last Updated On 04 October,2017 04:16 pm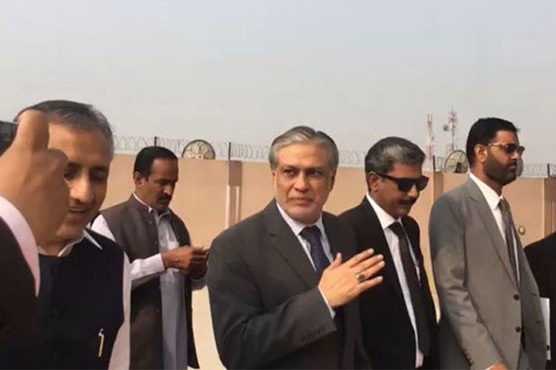 Accountability court adjourns Ishaq Dar's case till Oct 12
ISLAMABAD (Dunya News) – The accountability court has on Wednesday adjourned the hearing of Finance Minister Ishaq Dar's case in connection with a reference filed by the National Accountability Bureau (NAB) against him for possessing assets beyond known sources of income till October 12.
Ishaq Dar earlier appeared in the court along with State Minister for CAAD Tariq Fazal Chaudhary, Parliamentary Secretary for Information and Broadcasting Mohsin Shahnawaz Ranjha and Minister of State for IT Anusha Rehman. The security had been handed over to police instead of Rangers.
Statements of private bank officers Tariq Javed and Ishtiaq Ali, who appeared before the court as important NAB witnesses, have also been recorded. Two other witnesses will be presented during the next hearing of the case.
Ishtiaq Ali testified that Ishaq Dar opened a bank account on the name of his wife, Tabassum Ishaq Dar, who owns HDS Securities Private Limited. The bank account details of Tabassum Ishaq Dar were handed over to NAB after the bureau asked for them by writing a letter. He also claimed that no tampering has been done in the account details, which are computerized documents without signatures and their copies are attested.
Ishaq Dar's counsel Khawaja Haris inquired from the witness about the record of accounts upon which Ishtiaq Ali replied that he possesses the record as well as the photocopy of the letters. Khawaja Haris also objected on the witness by terming him irrelevant. The witness was appointed in 2005 whereas the documents he is presenting are of 2001, he argued.
The National Accountability Bureau had filed a list comprising 28 witnesses in accountability court who would testify against finance minister Ishaq Dar in case over alleged assets beyond means.
Wajid Zia, additional director general of the Federal Investigation Agency who led the Joint Investigation Team proceedings against Nawaz Sharif's family earlier this year is among the witnesses. Reportedly eight officials of the accountability bureau are among the 28 listed.
Qaboos Aziz, sacked NADRA employee, representatives of Federal Board of Revenue, election commission, national investment trust, LDA and assistant commissioner Raiwind among other departments would testify.
It is worth mentioning here that the accountability court had indicted Ishaq Dar on September 27 and adjourned the hearing till October 4 (today).
The verdict was announced by judge Muhammad Bashir who also read the charge-sheet. Ishaq Dar was ordered to ensure his presence during the next hearing.
The finance minister had denied all charges that were levelled against him terming them false, and submitted surety bonds worth five million rupees as per directions of the court.