Last Updated On 29 September,2017 11:55 pm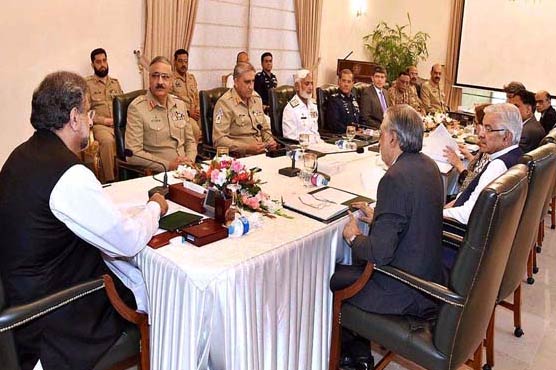 PM Shahid Khaqan Abbasi for keeping Pakistan's defence impregnable against external aggression
ISLAMABAD (APP): The National Security Committee met here Friday with Prime Minister Shahid Khaqan Abbasi in the chair and expressed its unwavering resolve to keep Pakistan's defence impregnable against all forms of external aggression.
The meeting was attended by the ministers for finance and foreign affairs, chairman joint chiefs of the staff committee, all three services chiefs and senior civil and military officials, a PM Office statement said.
The committee expressed a deep concern over repeated violations of Line of Control (LoC) by India, resulting in loss of innocent lives owing to shelling and firing across the LoC.
The NSC also condemned violation of human rights in the Indian Occupied Kashmir and use of excessive force against unarmed civilians. The body was informed that the prime minister, in his meeting with the UN secretary general, had handed over a dossier documenting the systematic human rights violations by India in Indian Occupied Jammu and Kashmir and stressed the need for appointing a Special Envoy on Jammu and Kashmir.
It was briefed that the prime minister and the foreign minister had engaged the leadership of several important countries to share Pakistan's perspective on regional and global security challenges. Salient aspects and outcomes of the prime minister's visit to New York for the UN General Assembly (UNGA) were also shared with the committee.
The committee was also briefed that the foreign minister had visited key regional countries, including China, Iran and Turkey to apprise their leadership of Pakistan's perspective on crucial regional and international issues.
It was informed that Pakistan's continued engagement with leading world powers on matters of regional security had generated a supportive sentiment for Pakistan amongst world leaders during interactions on the sidelines of the UNGA in New York.
The national security body also reviewed the current developments in the relationship with Afghanistan as well as common avenues for continued cooperation, especially border management and repatriation of refugees.
The committee reiterated its commitment for peace in Afghanistan through an Afghan-led and Afghan-owned peace process.